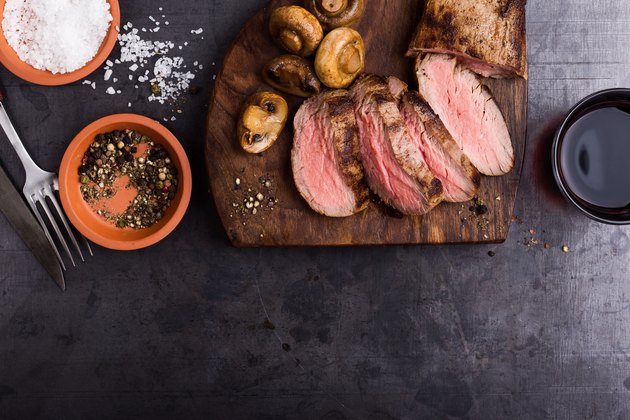 A Sunday roast, also known as a "roast dinner," is a typical British meal that is made on Sundays — obviously! Roast dinner calories can vary quite a bit; here's what you need to know.
Tip
The exact number of roast dinner calories depends on which dishes you make, how you make them and what portion sizes you eat.
What Is a Sunday Roast?
The British Council explains that a Sunday roast usually consists of a roasted meat dish, served along with roasted potatoes, boiled vegetables, sauces, gravy and pudding.
The meat is usually either roasted turkey or roasted ham, however it could also be beef, pork or chicken. The boiled vegetables are typically either peas or carrots, however parsnips and Brussels sprouts are also sometimes added to the meal. The gravy is made by adding a little wine and flour to the juices of the meat. It is supposed to be poured over the meat, however, more often than not it is poured over the entire meal.
Sauces are added to give the meal a touch of flavor. Chicken and turkey are usually served with bread sauce, lamb is paired with mint sauce, pork is eaten with applesauce and beef is usually accompanied by horseradish sauce.
Dessert, also known as "pudding," is usually a sticky toffee pudding, a bread and butter pudding or an apple crumble served with custard.
Roast Dinner Calories
Given that Sunday roast is an umbrella term that encompasses a number of different dishes, it can be hard to judge exactly how many calories it has. Even the way each dish is prepared can affect the roast dinner's calories.
However, here are a few standard references for many of the dishes in a roast dinner. This list should give you a rough idea of how many calories each serving has, so that you can estimate the calories in your meal and make healthy food choices.
With an elaborate feast laid out before you, it can sometimes be hard to control your appetite. A March 2017 study published in the journal Current Obesity Reports concluded that large portion sizes can cause you to overeat.