Strokes attack portions of the brain regulating fine motor skills. This often means temporary loss of arm, hand or finger function on one side of the body. But if you suffer a stroke, a drooping mouth and loss of chewing, speaking and swallowing ability also are common symptoms. As with the recovery of all fine motor skills lost or impaired because of strokes, certain exercises aid in your road to recovery of mouth function.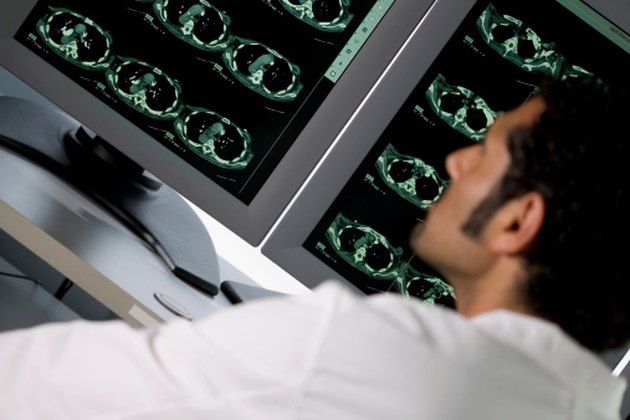 How Strokes Impair Function
Following a stroke, numbness or paralysis often strike one side of your body, sometimes causing your mouth to droop, particularly when attempting a smile, according to the Mayo Clinic. Strokes on the left side of the brain affect movement on the right side of the body and also attack speech function. Oral therapies and exercise become imperative in regaining mouth form and function.
Types and Significance of Exercise
Exercise following a stroke retrains your brain to perform lost functions. Certain exercises help you regain oral motor function -- the use of jaws, lips, tongue and cheeks for the everyday tasks of consuming food and drink and speaking. A process known as oral motor therapy, sometimes used for children as well, increases mouth muscle strength and stamina of your jaw. Common beneficial exercises include blowing bubbles, using straws, blowing on harmonicas or kazoos and exercising your tongue by sticking it out or pressing it repeatedly into the roof of your mouth. Moving your chin from side to side while keeping your head stationary also helps re-tone and retrain drooping mouth muscles and bring them back to strength.
Warning Signs
A drooping mouth and facial numbness often are some of the first signs you suffered a stroke. Immediate medical attention helps quickly diagnose the stroke, and every minute is crucial, according to the Mayo Clinic. Brain damage and disability often increase with longer delays before treatment, and exercise following strokes only is effective if initial emergency treatment mitigates long-term impacts. The Mayo Clinic notes long-term treatment and recovery efforts are most effective if emergency medical care comes within 60 minutes of your initial stroke symptoms.
Required Doctors
If you suffer a stroke, a team of medical professionals including doctors and therapists work together in coordinating the recovery process. Physical and speech therapists coordinate exercises and therapy for retraining mouth function, according to health care website Health Tree. Occupational and vocational therapists prepare you for the physical tasks needed in everyday life at home and on the job.
Time Frame to Recovery
The time frame for stroke recovery varies from patient to patient, depending on the extent and severity of brain damage, according to the National Stroke Association. The Mayo Clinic notes the importance of recognizing the long road and hard work required for recovery, then celebrating small successes along the way.