A popular British breakfast cereal brand since the early 1930s, Weetabix is made from 100-percent whole wheat and malted barley extract. The original variety supplies nearly 4 grams of fiber and 4.5 grams of protein per serving and is a rich source of iron and B vitamins. The manufacturers developed a 1,200-calorie Right Weight Fiber Diet, which incorporates Weetabix products at breakfast, suggests balanced meal plans for lunch and dinner, and instructs followers to exercise for 20 to 30 minutes three to five times weekly. Talk to your doctor before starting the plan, especially if you have a medical condition.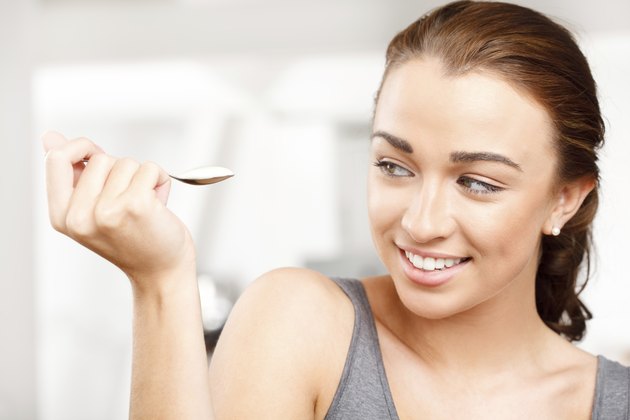 Have Weetabix at Breakfast
A day on the Right Weight Fiber Diet begins with a 250-calorie breakfast featuring a Weetabix cereal product. Options include regular or organic Weetabix, no sugar-added Alpen or Oatibix biscuits. The cereal is paired with low- or nonfat milk, 4 ounces of 100-percent fruit juice and a piece of whole-grain toast or a whole banana. You can drink unsweetened tea or coffee, but measure how much milk you add -- you're only allowed 1 cup daily. If you'd prefer to skip the Weetabix, you can breakfast on 4 ounces of juice, two slices of toast and a serving of low- or nonfat fruit yogurt.
Go Light at Lunch
Seventeen sample lunch menus are provided on the Right Weight Fiber diet. Each selection supplies approximately 350 calories. Examples include a salad prepared from 4 ounces of pasta, 2 ounces of cubed Edam cheese, vegetables and a serving of fruit, or lean roast beef and vegetables served on whole wheat bread. Dieters are instructed to weigh and measure each ingredient and to make their vegetable choices from a list of "free" produce, including items such as celery, broccoli, lettuce, tomatoes, carrots and beets. A list of allowed fruits and their serving size is also included.
Fill Up on Protein at Dinner
The dinners on the Weetabix plan are designed to provide around 400 calories, though you can eat this main meal at lunchtime and have the lighter calorie meal at dinner, if you prefer. A typical dinner consists of boneless skinless chicken breast stir-fried with vegetables and served on rice, followed by a dessert of fresh fruit. You're allowed to use a small amount of polyunsaturated fat like sunflower oil for cooking meat, though you're encouraged to avoid preparing vegetables with any added fat. All grain choices should be whole grains, such as whole-wheat pasta and brown rice.
Plan for Wise Snacks
You aren't required to eat snacks throughout the day on the plan, though you can eat any amount of free vegetables or choose to save the fruit or yogurt from one of your meals to snack on if you're hungry in the mid-morning, afternoon or evening. Drink plenty of fluids such as water, mineral water, herbal tea or low-calorie, sugar-free sodas in-between meal time. You can use a low-calorie artificial sweetener such as aspartame, but do not use fructose or sorbitol to avoid excess calories.