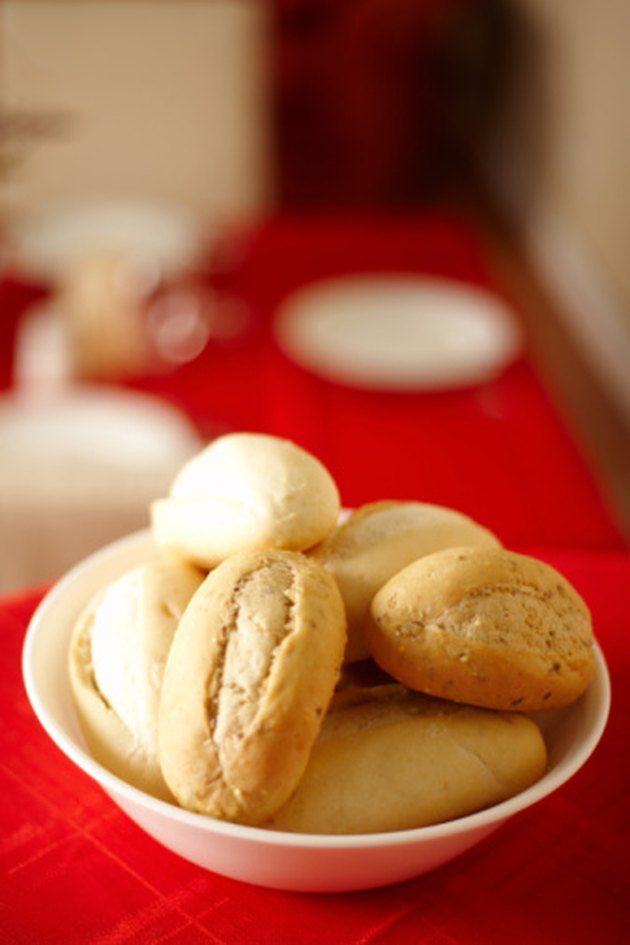 Bread consumption can often hinder the control of blood glucose in diabetics. Many types of bread are laden with carbohydrates and sugar causing blood glucose to rise. However, for those that refuse to surrender their daily bread, there are a few low carbohydrate breads that can contribute to fiber content in the diet and will not drastically raise blood glucose levels. The American Diabetes Association recommends high fiber breads made from whole grains to keep blood glucose from spiking and to maintain optimal digestive health. As always, it is imperative to consult with a licensed dietitian familiar with diabetes before attempting to drastically alter any diet for a medical condition.
Pumpernickel
Pumpernickel bread is a dark brown color that is low on the glycemic index. For 1 one ounce slice, pumpernickel scores a 51 with 1 g of fat and 15 g of carbohydrate. Pumpernickel traces its origins to Germany, and was traditionally made to feed the hungry. The German Food Guide describes pumpernickel as a whole grain bread made from rye flour and coarse rye meal that, in America, has the addition of molasses or sour mix for sourdough adding to its signature color, aroma and taste.
Sourdough
Sourdough is a white bread that is low on the glycemic index. For a 1-oz. slice, sourdough scores a 52 with 1 g g of fat and 20 g of carbohydrate. Sourdough is a rather lean dough that obtains much of its robust flavor and texture from the sour mix that ferments over time adding leavening as well as flavor. While it is a white dough, the University of Wisconsin Hospital and Clinics Center for Integrative Medicine's Glycemic Food Index ranks sourdough lower than most in scoring making it a favorable option for diabetics.
Wholegrain vs. Stoneground Wheat
Wholegrain wheat provides a considerable amoutn of dietary fiber and most brands are lower in fat than their white counterparts. However, for diabetics hoping to control spiking blood sugar levels, most wholegrain wheat would be best replaced by a wheat bread that is stoneground. The American Diabetes Association gives wholegrain wheat a score on the glycemic index of 56-69, placing it the moderate range. Stoneground wheat that is similar in flavor but not as grainy in texture scores below 55, making it the lowest scoring and best choice.