If you typically pack a sandwich for lunch, keeping your choices varied can help avoid lunchtime monotony. As an alternative to a ham or peanut butter and jelly sandwich, place a couple of slices of turkey and your favorite condiments between two slices of bread. How you build your sandwich dictates how many calories it contains.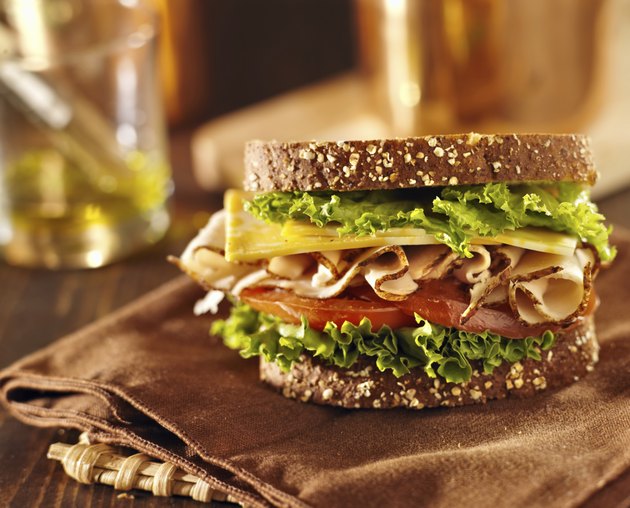 Choose Your Ingredients Wisely
Your choice of bread plays a significant role in the total calories of your turkey sandwich. Two slices of regular white bread contain 148 calories, while two slices of cracked wheat bread have 130 calories. The exact number of calories depends on the density of your bread and slice thickness. Four slices of prepackaged luncheon meat turkey add 60 calories to the sandwich. One tablespoon of cholesterol-free mayonnaise contributes 103 calories, and a teaspoon of yellow mustard adds another three calories to the sandwich. A 1-ounce slice of Swiss cheese has 106 calories, and 1/4 cup of shredded iceberg lettuce has three calories. In total, a sandwich with these ingredients contains between 405 and 423 calories, depending on the bread choice. Decrease the number of calories significantly by leaving off the mayonnaise, and boost nutrients by adding extra vegetables such as tomatoes, cucumbers or sprouts.