A simple sandwich that has 2 ounces of turkey and two slices of white bread contains approximately 210 calories, but where's the fun in that? Remember that the toppings, condiments and bread you choose can add on considerable sandwich calories.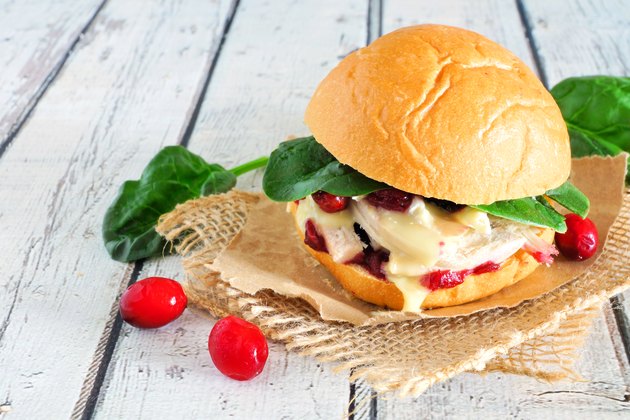 How you make your turkey sandwich matters. A gourmet version with bacon, avocado and cheese is definitely going to cost you more calories than one made on whole-grain bread with lots of lettuce.
Tip
A standard turkey sandwich made with white bread and 2 ounces of deli turkey contains 210 calories. But if you change the bread type, add more turkey, and pile on the condiments and fillings, your sandwich's calorie count changes dramatically.
Bread Counts for Sandwich Calories
The bread you choose can make a big difference in the total number of calories in your turkey sandwich. Two regular slices of commercial white bread add about 150 calories, but put your turkey on a pretzel roll and it adds 220 calories.
A wheat sandwich roll adds about 210 calories to your sandwich, as well as lots of nutritional fiber. Two slices of whole-grain oatmeal bread have 200 calories. Ultimately, you should consult the label of the bread that you choose to best determine how it will contribute to your turkey sandwich's calorie count.
It would be smart to use whole-grain bread for your turkey sandwich, however, regardless of a few extra calories this adds. Research published in BMJ in June 2016 explains that a higher intake of whole grains is associated with a lower risk of cardiovascular disease, cancer and all cause of premature mortality.
Whole grains are particularly beneficial because they contain the entirety of the grain, including the bran and the germ, making them rich in fiber and micronutrients. Look for breads labeled "100 percent whole wheat" or "whole grain." Other important whole grains include brown rice, quinoa, barley and bran.