Asparagus is a vegetable belonging to the lily family, which also includes onions, leeks and garlic. Eat asparagus as part of a heart-healthy diet, as it contains no fat, no cholesterol and very little sodium. Asparagus provides many essential vitamins and minerals with very few calories -- only about 20 calories per 5.3 ounces -- making it a nutrient-rich food. Although good for your health, eating asparagus on a daily basis may lead to negative side effects that, although not life threatening or serious, can be annoying.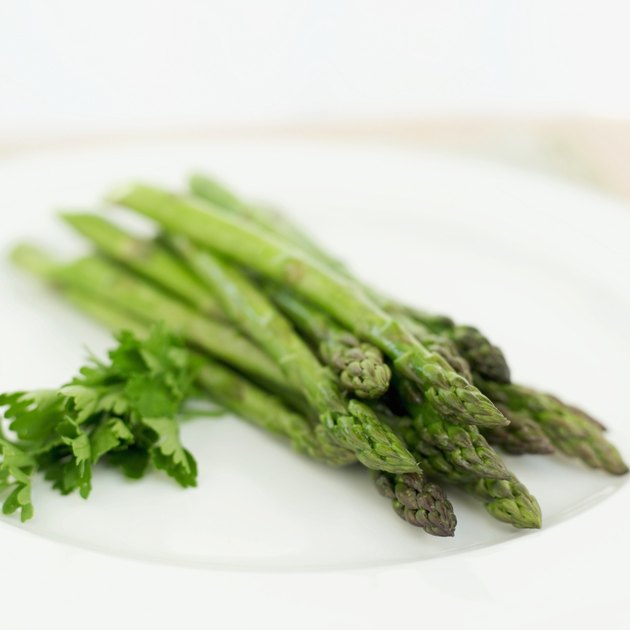 Gas
The incomplete breakdown of foods, especially carbohydrates, causes gas in the digestive tract. Although it is normal to pass gas approximately 14 times a day, according to the National Digestive Diseases Information Clearinghouse, some foods cause more gas than others. Asparagus contains raffinose, a type of carbohydrate that includes the sugars known as galactose, fructose and glucose. Some animals can break down this complex carbohydrate, but human intestines do not have the necessary enzyme. Therefore, bacteria in the intestines must ferment the food in order to break it down. This process results in the formation of gases the body must release through burping or flatulence. Eating asparagus daily causes excess gas that can be both uncomfortable and embarrassing.
Smelly Urine
Many people who eat asparagus notice a pungent odor to their urine within about 15 minutes following the meal. This odor occurs due to a specific sulfur-containing amino acid derivative of methionine, which the body produces during the breakdown of the asparagus. Not everyone seems to notice the change in urine smell; researchers have yet to determine whether this is because not everyone produces the amino acid, or because not everyone can smell it. In either case, genetic factors play a role in whether you can smell an odor of asparagus in your urine.
Allergy
If you eat asparagus daily, it's unlikely that you have a dangerous asparagus allergy. You would notice serious symptoms after consuming the vegetable such as hives, trouble breathing and swelling around the mouth and lips. However, a slight asparagus allergy can cause runny nose, congestion or other vague symptoms. If you have nasal symptoms or minor skin irritation and can't isolate the cause, asparagus allergy could be the culprit. Check with your health care provider if you have unexplained allergy symptoms.