After working out a bit too hard at the gym, back pain might be inevitable. However, suffering from chronic back pain after exercising can make it difficult for you to maintain a regular workout routine and stay in shape. It also might make you more prone to back injury. If you don't have a serious back problem, you can try several ways to manage this pain and prevent it from coming back.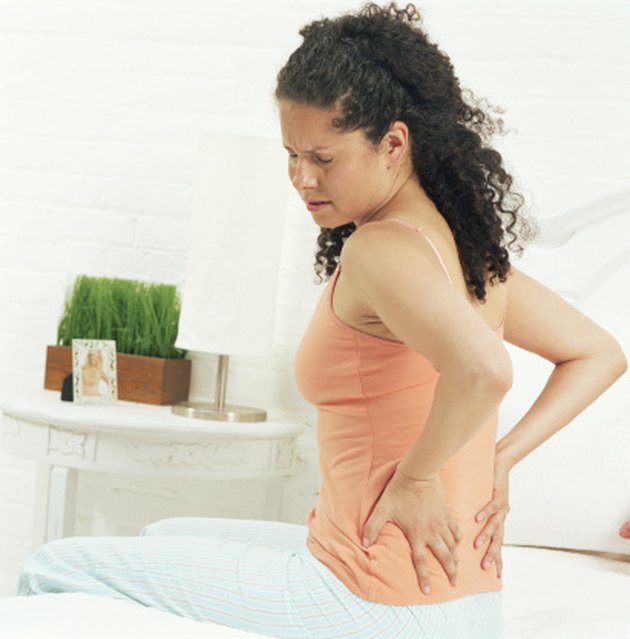 Step 1
Lay on your back on the floor with feet flat and your knees bent. Tilt your pelvis up so your back arches. Then, pull in your stomach and tilt your pelvis down so your back is flat against the floor. Be gentle in this stretch so you don't hurt your back further. Pelvic tilts will stretch out your lower back and get rid of your pain faster.
Step 2
Stretch out your arms to loosen up your shoulders and upper back, suggests AARP. While standing, raise your arm straight up and lean in the opposite direction, stretching your side and back. Return to the starting position and repeat with the other arm.
Step 3
Perform the cat stretch to relieve back pain. Position yourself on your hands and knees and relax your stomach. Then, arch your back slowly, really feeling the stretch. This should not hurt. Return to the starting position and repeat as many times as you feel comfortable.
Step 4
Ease up on your routine. If your back feels very stiff and sore after every workout and stretching doesn't help, lay off of your routine for a few days until the pain goes away.
Step 5
See a doctor. If your pain doesn't go away or repeatedly comes back each time you work out, consult a physician to make sure you don't have a more serious problem.
Tip
Back pain can be caused by toning a muscle without stretching it afterward. Be sure to also stretch your back if you do back strengthening exercises, and alternate toning different muscle groups every other day to give those muscles a rest.
Warning
If back pain is sharp or severe, be sure to see a doctor immediately before continuing any exercise.