The acidity and alkalinity of foods takes the spotlight in many diet plans. According to the theory behind the acid-alkaline balance diet, often known simply as the alkaline diet, most people eat too much acid-producing food. By eating more foods that produce alkaline chemicals, you can lower the amount of acidity in your body.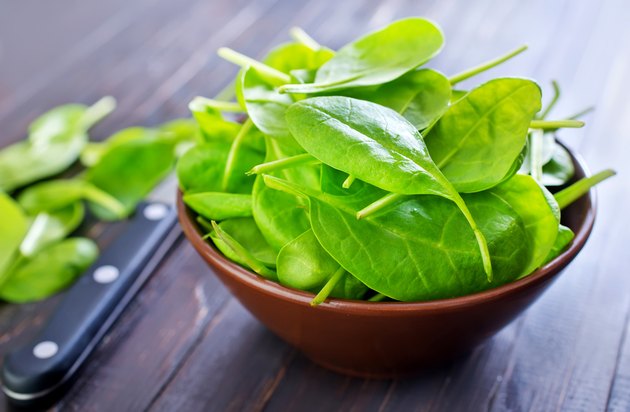 Vegetables
Many different vegetables can reduce the amount of acid in your body. Vegetables that have a bitter taste can alert you to the presence of alkaline substances, since these chemicals are typically bitter. The most alkaline vegetables, according to Trans4mind.com, are raw spinach, parsley, celery, garlic and barley grass. Beets, lettuce, zucchini, carob and lettuce are also moderately alkaline vegetables, and when consumed in moderation can help reduce the acidity of the body. Other alkaline-producing vegetables include Brussels sprouts, cabbage, asparagus, collard greens, mustard greens, dandelions, broccoli, rutabaga, peppers and peas.
Fruits
Although many fruits, such as oranges, lemons and other citrus fruits, are naturally acidic, they can actually help reduce the amount of acid in the body. This is because as they are broken down, they stimulate the production of alkaline chemicals. Apples, avocados, cherries, pineapples, peaches and pears are all fruits that can neutralize acid in the body, the Wolfe Clinic reports. Melons, such as cantaloupe, watermelon and honeydew, can also be added to the diet to reduce body acidity. Bananas also have an alkalizing effect, but they should only be consumed in moderation due to their high glycemic index, which means they can cause rapid spikes in blood sugar.
Proteins
Many meats produce acid in the body, which means if you are trying to reduce acidity in your diet, you will need to find other protein sources. Fortunately, alkaline sources of protein can be found in most nuts, pumpkin seeds, squash seeds, sunflower seeds and flax seeds. Fermented soy, eggs, whey protein, yogurt and millet are other alkalizing sources of protein.
Spices
A variety of spices can also be added to your diet to neutralize excess acid. These include curry, cinnamon, miso, mustard, curry and ginger, Rense.com states. Herbs, when used as a seasoning, can also be used to make your food more alkaline.