Ramen noodles are hard to beat as a cheap, quick meal. It is also hard to top their high sodium content when they're prepared as soup with the seasoning packet that is included with the package. The noodles are already high in sodium without the added seasoning, so it is a better idea to use alternative cooking methods.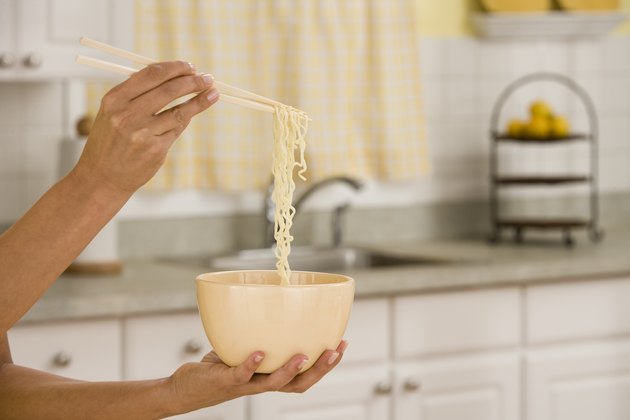 Calories
One package of plain ramen noodles contains two servings. Each serving contains close to 190 calories. There are slight variations among the many brands of ramen noodles. A serving also has 7 gram of fat.
Nutrition
There are 29g of carbohydrates in each serving of noodles. Only 1 gram is dietary fiber. The iron content provides 6 to 8 percent of your recommended daily intake, depending on the brand. Each serving contains 500 milligrams of sodium. The Institute of Medicine recommends that adults consume less than 2,300 milligrams of sodium a day.
Tips
Cooking ramen noodles in water and adding herbs and spices will give flavor to soup without adding more sodium. You can also use low-sodium broth for ramen soup, or alternatively, boil the noodles in water, drain and add to homemade stir fries.