Acitvia yogurt by Dannon advertises the effects of good bugs, or intestinal bacteria known as probiotics, meaning "for life." Lactobacillus acidophilus and Bifidobacterium, the most commonly found good bacteria in probiotic supplements, can be found in a variety of probiotic products, and Dannon advertises Activia as being loaded with good bug bifidus regularis. Many of these helpful bugs are lacking in our foods due to over-processing and have been removed from the natural environment of our bowels through the use of antibiotics. Probiotics are used to replace these natural good bugs in the bowel.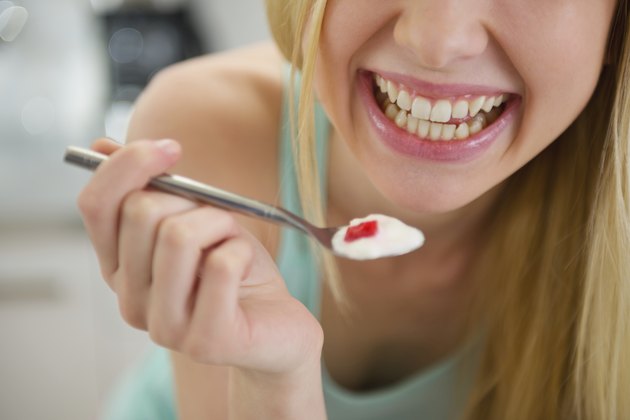 "Johns Hopkins Health Alerts" reports that Dannon claims, "Activia is currently the only yogurt on the market claiming to have probiotic cultures in their product…." which is not so. The " Health Alert" goes on to say there are other yogurt products with active, live cultures stated on their labels. Although good probiotic bacteria in yogurt fights bad bugs in the intestines such as yeast, fungi and parasites, Activia may produce unwanted side effects.
Anecdotal vs. Evidence
There is no hard and fast evidence concerning either the efficacy or side effects from eating Acitiva, the "Health Alert" reports. But there are some anecdotal reports that suggest eating Activa may cause problems for some people.
Digestive Upsets
Complaints on numerous public forums and discussions allege a wide array of stomach and digestive problems possibly from eating Activia, such as severe abdominal cramping, burning diarrhea, nausea, bloating, irregularity and acid reflux.
Systemic Upsets
Other possible side effects not disclosed on Dannon's site but discussed on forums were headaches, muscle pain, increase in basal metabolic rate and metabolism, problems sleeping and general anxiety.
Lactose Intolerance
Some people mentioned on the forums that their lactose intolerance symptoms may have been aggravated by eating Activia.
Diabetic Reactions
Because of the extra sugar added to Activia, diabetics may experience problems with blood sugar levels.