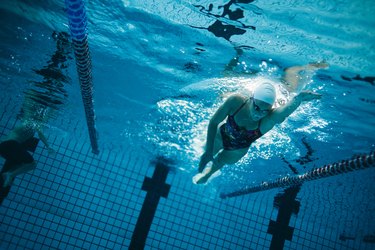 Many people want to join a gym or fitness club to gain access to equipment they don't have at home. Fitness clubs with pools have the added benefit of allowing you to incorporate swimming and other aquatic exercises in your workout routine. However, not all gyms have pools. Before signing up for a membership, it's important to determine which fitness clubs in your area have all the equipment and facilities you need to achieve your fitness goals.
Keep Your Options Open
In order to find a fitness club with a pool, you need to first compile a list of all the fitness clubs in your city or within an area to which you are willing to travel. You can do this by driving around the area you live or work and noting the location of fitness clubs you see, or by searching online.
If you do an online search, you can perform a basic search engine hunt to locate fitness clubs in your city or ZIP code. You can use a resource such as Google Maps, too. Enter "fitness club" or "gym" in the address bar and find a list of facilities near you. You can also use business search sites like yellowbook.com to find gyms in your area, or you can use a website specifically designed to locate gyms, like gymlocator.com, to compile a list of fitness clubs where you live. The U.S. Masters Swimming website also has a locator feature to find gyms with pools.
Find Your Favorite Feature
After making a list of different fitness clubs that fit your travel considerations, evaluate the features of each facility. Many gym websites have a list of club amenities that detail what types of equipment and additional facilities they offer. If this isn't listed on the website, call and ask about the club's features.
Certain gyms offer indoor pools, while others have outdoor pools. If you have a preference, make sure you identify the gyms with the specific type of facility you desire. If you are interested in taking water fitness classes, that is another must-ask question. Many gyms will offer these classes, but some won't. If the gym does offer classes, ask about the schedule to be sure they are offered at times you will be able to attend.
Be aware that certain fitness center chains may have multiple locations in your area, but they all may not have a pool. Note which locations have a pool. You can usually sign up for a membership at any of the locations, but you will want to know which location to visit in order to use a pool.
Location, Location, Location
Once you have narrowed down your list to fitness clubs in your area with the type of pool you are seeking, the next step is to choose a location. You should base this on each facility's proximity to your home, workplace or other locations you frequent. This will help you choose a fitness club that is the most convenient, which will increase the likelihood that you will make good use of your membership by frequently working out.
After deciding on a gym, call or visit the location to verify it has a pool and that it is currently in service. You don't want to spend money on a membership only to find out later that the pool is under construction.
Read the Fine Print
Before you sign up for a membership at a fitness club, speak with a representative about pool rules, features and pricing. You will want to know if it is available only for classes or if you can use it on your own, if the pool hours differ from the facility's hours and if you can bring children or guests.
Make sure you are comfortable with the extent to which you can use the pool before you sign up. Also, check to see if there are additional fees in order to use the pool. Some gyms include usage of the pool facilities in the standard membership price, while others require a special membership with additional fees or charge on a per-use basis.