Feeling the grind of a workout is not always indicative of a mind over matter issue. In fact, muscle pain and fatigue are often symptoms of underlying conditions that are magnified during muscle stress. A tablespoon of organic, unpasteurized and unfiltered apple cider vinegar before exercising contains a plethora of vitamins and minerals that work behind the scenes to stunt muscle pain at its source.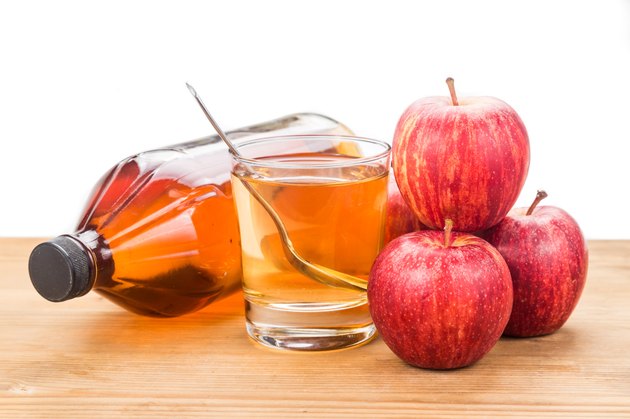 Muscle Cramp Prevention
Exercise-induced muscle cramps are not always remnants of muscle exhaustion. Oftentimes, dietary deficiencies of calcium, magnesium or potassium cause electrolyte imbalances that add stress to muscles during a workout. The National Center for Alternative and Complimentary Medicine states that intestinal viruses and parasites, lactose intolerance and alcohol can also contribute to exercise-induced muscle fatigue. Apple cider vinegar before workouts can help to prevent muscle cramps by replenishing an array of electrolytes that are lost with sweat.
Energy Production
Organic and unfiltered apple cider vinegar contains malic acid that increases energy through the breakdown of fat calories. In his book "Conscious Eating," Dr. Gabriel Cousens says that the malic acid in apple cider vinegar also increases energy through its ability to dissolve toxins that cause fatigue and weakness. Apple cider vinegar has an indirect effect on weight loss for this reason; clinical research on its official role in weight loss suggests it speeds-up metabolism, though more research is needed.
PH Balancing
Apples are generally considered to reduce acid buildup in the body due to an alkalizing nature. Fermented apples -- the foundation of apple cider vinegar -- create a balancing state of acid and alkalinity. This pH balance creates harmony in the body systems that allows for pain-free exercise by eliminating access acid from muscle tissues, according to Cousens. PH is a natural monitor of carbon dioxide and plays crucial roles in oxygenating your body during exercise.