Exercise balls can enhance your workout in many ways. They help improve posture and balance and they also strengthen your core muscles. However, they can be difficult to store when inflated, because their circumferences may range from 60 to more than 90 inches. Thus, deflating them can help free up extra room in your workout space. Even if you have room to store the ball, you'll likely need to remove the plug to add air to it from time to time.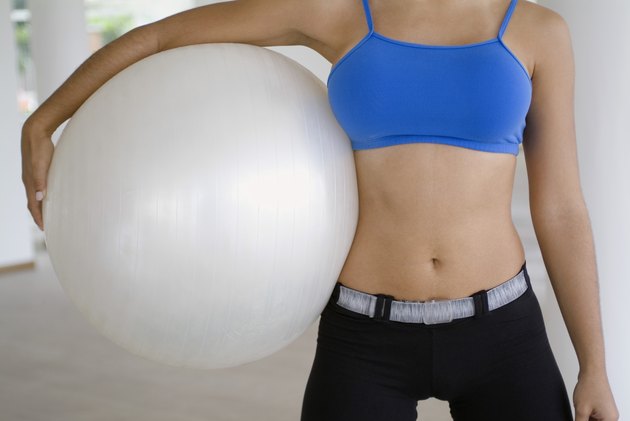 Plug Remover
Step 1
Slide the prongs of an exercise ball plug remover around the plug with one prong on either side of it.
Step 2
Squeeze the plug remover to securely grip the plug.
Step 3
Pull the plug remover up to remove the plug. You may have to wiggle it slightly to dislodge the plug.
Household Items
Step 1
Slide the edge of a coin under the top edge of the exercise ball plug. The coin should be held tightly in between the ball and the underside of the top lip of the plug.
Step 2
Grip the coin firmly between your thumb and forefinger and flip the coin upward and outward to remove the plug.
Step 3
Pinch the edges of the plug with a small pair of pliers and pull up to remove the plug.
Step 4
Slide the end of a flat-head screwdriver under the lip of the plug and gently apply downward pressure to the handle to push the plug out of the hole.
Things You'll Need
Plug remover

Coin

Pliers

Screwdriver
Tip
You can purchase a stability ball plug remover from most sporting goods stores if your ball did not come with one or you've misplaced it.
Some manual and electric pumps have two-way action and allow you to quickly inflate and deflate your exercise ball.
Replace the plug in the ball after you've deflated it to avoid misplacing the plug.
Warning
Use caution when using pliers or a screwdriver to remove your exercise ball plug.
These tools could damage the plug or puncture the ball.
Always inspect your exercise ball for cracks and punctures before using it to prevent injury.