Coffee is usually made by straining water through ground coffee beans. It naturally contains caffeine, a mild stimulant. Coffee is considered to be beneficial in moderate amounts, but drinking too much can cause adverse effects. For most people, moderate coffee consumption amounts to two to four cups a day.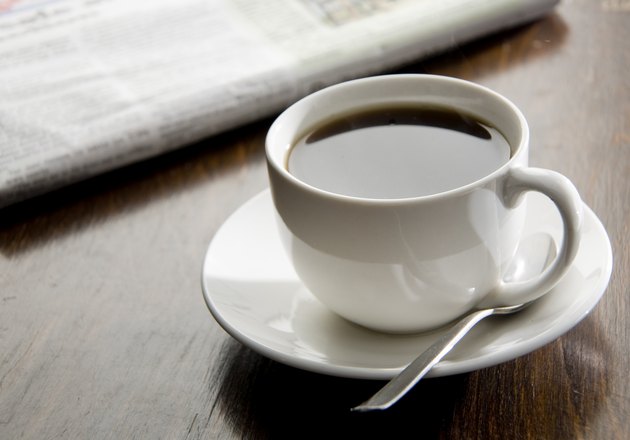 Caffeine
Two to four cups of coffee have approximately 200 to 300 mg of caffeine. If you consume more than that -- 500 to 600 mg of caffeine a day from five to seven cups of coffee -- you may start noticing adverse side effects. Some people are more sensitive to caffeine and may experience side effects at lower amounts.
Benefits
Coffee has been linked to lower rates of colon, breast and rectal cancers, according to a report published by the Harvard Medical School. The Harvard report also states that coffee may help prevent diabetes by lowering your blood sugar levels. It can also increase your metabolism, which can help you manage your weight. The caffeine in coffee may also help prevent the onset of Parkinson's disease, although the effects may differ between men and women, according to a 2001 study in the "Annals of Neurology."
Effects
Coffee contains kahweol and cafestol, which are chemicals that raise cholesterol. These chemicals are higher in decaffeinated coffee and unfiltered coffees like espressos. Too much caffeine can also cause insomnia, irritability, gastrointestinal problems and muscle tremors. Caffeine can be addictive; you may experience mild withdrawal symptoms when you stop consuming it.
Warning
Some medications can interact with the caffeine in coffee. Certain antibiotics can interfere with the metabolism of caffeine, prolonging its effects in your body. Some asthma medications can also interact with caffeine, causing nausea and heart palpitations.
Considerations
Black coffee contains few to no calories by itself. However, if you add cream, milk or sugar to your cup of black coffee, the calorie and fat contents will increase. Lattes and other creamy, sugary coffee-shop drinks can contain hundreds of calories, much like a dessert.