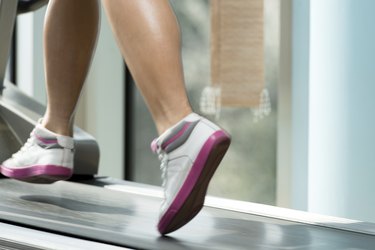 NordicTrack produced the C1800 model treadmill in 2002. It is a residential treadmill with a space-saving, fold-away design. The C1800 has a 1.5 CHP motor that supports speeds from 0 to 10 mph. The ramp inclines up to 10 percent. Users of this NordicTrack treadmill have experienced problems with the motor and the belt.
Small Motor
The 1.5 continuous-duty horsepower motor in the C1800 is a small motor for a treadmill. This is the horsepower rating the treadmill can sustain over an extended time. High speeds --- the C1800 can go up to 10 mph -- and high loads --- it has a maximum user weight of 250 lbs. -- will wear down this small of a motor. Treadmill-ratings-reviews.com recommends at least a 2.0 horsepower motor for walkers and a 2.5 or higher horsepower motor for joggers and runners.
Belt Wear
Because of the small motor, the belt on your C1800 could wear prematurely. With regular use, heavy loads could cause the 1.5 horsepower motor to drag. This dragging is transferred to the belt. The increased tension results in premature fraying and wearing of the walking belt. Treadmillsensei.com notes that the belt on the C1800 is not high quality and frays quickly.
Inaccurate Heart Rate Monitor
The most common user complaint about the NordicTrack C1800 concerns the heart rate monitor. The pulse sensors are located on the handlebars. You wrap your hands around the sensors to display your heart rate on the console. Treadmill-ratings-reviews.com notes that the heart rate monitor does not provide accurate readings. According to the feedback, the heart rate reading is generally too low to be realistic.