Swimming is an effective cardiovascular exercise that can help you lose weight. As with any exercise, swimming alone will not cause you to lose weight unless you combine regular lap swimming sessions with a healthy, calorically balanced diet. Avoid consuming the calories you burned during a swimming session by eating five to six small meals throughout the day, decreasing your caloric consumption by 500 to 1,000 calories per day.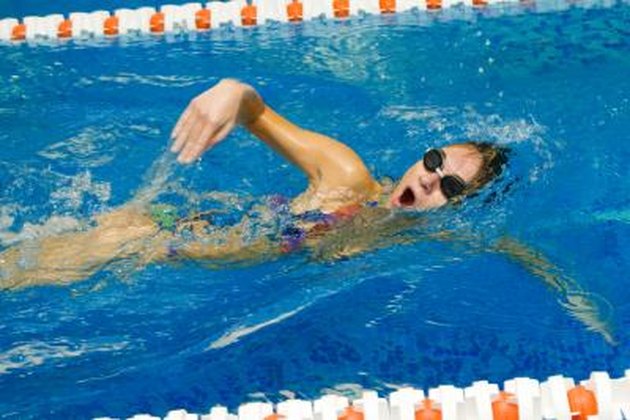 Benefits
Swimming increases your fitness, assists in recovery from injury, relieves stress and effectively burns calories, according to Bucknell University. When you swim laps, your body encounters 12 to 14 percent greater resistance than performing the same movement out of the water. If you weigh 155 lbs., you can burn over 500 calories per hour when swimming the freestyle stroke at a moderate effort, and 700 calories swimming the breaststroke, according to the Wisconsin Department of Health and Family Services.
Time Yourself
Use a clock or a watch to time how long it takes you to complete one lap of the pool at your normal speed with your favorite swimming stroke. Repeat with all the strokes you know how to do. You may find that you swim the freestyle the fastest, followed by the back, breast and side stroke. If you want to swim for 30 minutes, divide 30 minutes by your average lap time to determine how many laps you need to swim. For example, if you swim a lap in 45 seconds, you need to swim about 67 laps to complete a 30-minute workout.
Improve Your Stroke
As you get more comfortable swimming laps, improve the efficiency of your stroke to increase your speed and burn more calories. Use swim fins to build your lower body strength and help your ankle flexibility, both of which will help you swim faster. Work to increase both your stroke length and frequency so you travel across the lane faster. You will then be able to swim more laps in a shorter amount of time.
Interval Workouts
Once you are able to swim at least 30 laps continuously, perform swimming intervals. The more energy you expend during each lap, the more calories you will burn, thus enhancing your weight-loss efforts. Perform swim workouts as recommended by Stew Smith, former Navy SEAL. Swim five laps of a fast freestyle, rest for 20 to 30 seconds, and swim 10 laps of breast or backstroke. Rest for a maximum of one minute. Either repeat the interval, or use the rest of your workout to swim steady laps.