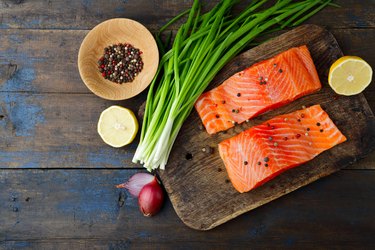 You may think that all salmon is the same, but each of its species has its own flavor and nutrition. Sockeye salmon, with its firm flesh and rich flavor, is considered a favorite among salmon eaters. Keta salmon, also called chum or dog salmon, is a drier fillet because of its lower fat content.
While they are both good sources of lean protein and healthy fatty acids, knowing the nutritional differences between keta and sockeye salmon might help you determine which fish is a better fit for your diet.
Compare the Calories and Protein
If you're counting every calorie, keta salmon may be the fish for you. A 3-ounce portion of raw keta salmon has 102 calories, while the same serving of raw sockeye salmon has 111 calories, according to USDA FoodData Central. Although there's only a 9-calorie difference between the two, every calorie counts when it comes to weight management.
As far as protein goes, there isn't that much of a difference between the two types of salmon — but the sockeye is a slightly better source. A 3-ounce portion of raw sockeye salmon contains 19 grams of protein, and the same serving of keta salmon contains 17 grams.
According to the National Academies of Sciences, adult women need 46 grams of protein a day, and adult men 56 grams. That means one serving of either piece of fish meets 30 percent or more of your daily needs.
Boost Heart Health
The American Heart Association recommends that you eat two servings of fatty fish a week for heart health. Fatty fish, like salmon, are rich in omega-3 fatty acids —in particular EPA and DHA — which are essential fats that keep your heart healthy by lowering triglyceride levels and blood pressure.
EPA helps support cell growth and division, digestion, hormone production, blood clotting and muscle function, while DHA is important for brain health, according to the NIH Office of Dietary Supplements. In addition to lowering overall risk of death, omega-3 fatty acids also help prevent heart attack and sudden death.
Get Your Vitamins and Minerals
When it comes to vitamins and minerals, it's a draw, according to the USDA. Sockeye salmon is a better source of vitamin A, but they both contain about the same amount of calcium, iron and vitamin E per serving. A 3-ounce serving of the raw sockeye contains:
8 grams of calcium
0.4 milligrams of iron
138 international units of vitamin A
0.7 milligrams of vitamin E
The same-sized serving of keta salmon contains:
9 milligrams of calcium
0.5 milligrams of iron
84 international units of vitamin A
0.9 milligrams of vitamin E
Both keta salmon and rockeye salmon are low in sodium — 42 milligrams in the keta and 66 milligrams in the rockeye version. According to the American Heart Association, adults should consume no more than 2,300 milligrams of sodium per day. If you have risk factors for heart disease, this recommendation drops to 1,500 milligrams per day.