To lose weight you need to burn more calories than you consume. You can do this by adding plenty of nutrient-rich, low-calorie foods to your diet and reducing your intake of unhealthy fats and processed foods. According to Heart, you should additionally eat plenty of high-fiber foods such as unrefined whole-grain products, since fiber-rich foods not only lower blood cholesterol levels, they also help keep you feeling full, which promotes weight loss.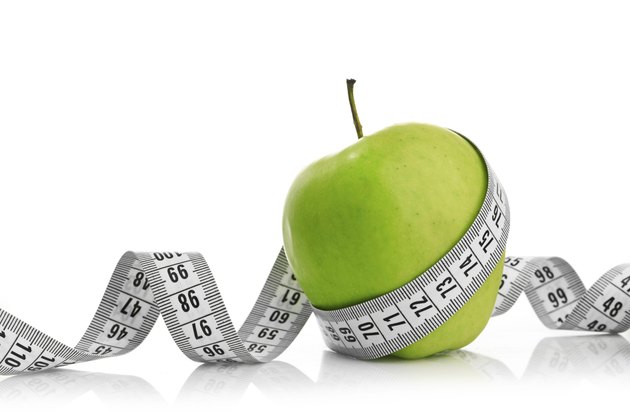 Time Frame
For every pound of body weight you need to lose, it is necessary to burn 3,500 calories. Therefore to lose 35 lb., you need to burn a total of 122,500 calories more than you consume. To achieve this amount of weight loss, you need to set a reasonable time frame. In the case of losing 35 lb., a well-founded time frame would be at least three months. To achieve a weight loss target of 35 lb. in three months, you will need to create a daily calorie deficit of around 1,360 calories per day. An easier, more gradual time frame would be six months; your daily calorie deficit would then be around 680 calories per day.
Nutrients
If you eat a low-nutrient diet, you are likely to overeat according to "Eat for Health" author, Dr. Joel Fuhrman. This is because a lack of nutrients results in cellular toxicity, which creates "toxic hunger" due to high levels of free radicals. A high-nutrient diet, rich in antioxidants helps protect against free radicals, and therefore reduces the desire to eat when genuine feelings of hunger are not present.
Breakfast
When you want to lose weight, eating lean protein is an important factor to your success. Protein helps preserve lean muscle mass, which increases metabolism. Around 25 to 35 percent of your total daily calories should be derived from protein. A low-calorie, protein-rich breakfast choice includes half a grapefruit, followed by an omelet made with the whites of three eggs. Optionally you could eat a fruit smoothie, made with a selection of two or three fruits and two tbsp. ground flax seeds or a handful of nuts for added protein.
Lunch
Low-calorie, high-fiber lunch choices that promote weight loss include grilled fish with a green salad and whole-grain toast, or a salad and avocado sandwich prepared with rye bread.
Dinner
For dinner prepare a grilled chicken breast with steamed vegetables and brown rice, followed by a fresh fruit cocktail. Alternatively, chose a vegetable stir fry with added tofu and a baked apple for dessert.