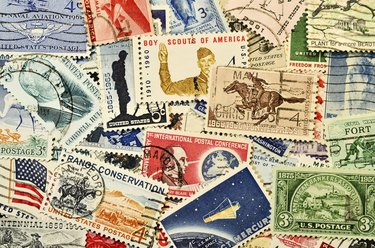 Licking the back of a postage stamp may seem a perfectly innocuous activity for calorie-counters and dieters, but lick enough of them and the calories may start to add up, especially if the stamps are British and larger than normal.
British vs. American Stamps
The calorie content in the adhesive on the back of a U.S. postage stamp works out to about one-tenth of a calorie, according to nutritional information from the United States Postal Service posted on the DietFacts.com website. British stamps, on the other hand, contain about 5.9 calories per lick; the adhesive on a larger commemorative or special British stamp contains a whopping 14.5 calories.
Type of Adhesive
Lick-and-stick British postage stamps use an adhesive gum made from starch, or dextrin, and a petroleum-derived synthetic alcohol, or polyvinyl alcohol, states the "Guardian" website. U.S. postage stamp adhesive also uses dextrin or a synthetic emulsion.
FDA Approved
The Bindagraphics website says that the adhesive on lick-and-stick postage stamps is the only glue that must have the Food and Drug Administration's seal of approval.
Fun Fact
As stated in the August 11, 2004, article "The Secret World of Stamps" in London's "The Mirror," Dean Gould of Felixstowe, Suffolk, England, made stamp-licking history in 1995 by licking 450 stamps and sticking them to envelopes in a mere four minutes. Using the current 5.9 calorie content the adhesive on an individual British postage stamp, Gould consumed 2,655 calories from stamp adhesive alone.