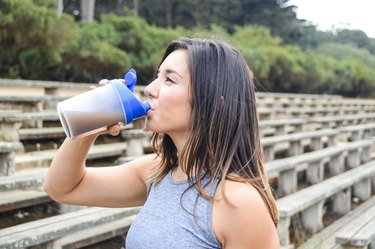 The plan is described as a "medically monitored weight management program" that "combines lifestyle education and medical monitoring with a meal replacement diet," according to its website.
The Optifast plan consists of three phases and also offers an option for people to join a clinic and receive personal nutrition counseling. Some people use Optifast to lose weight before undergoing weight loss surgery.
We'll examine how the Optifast meal replacement diet works, the Optifast phases and the risks associated with Optifast.
The Optifast program is designed for people with a Body Mass Index (BMI) greater than 30, or for people with weight-related medical conditions who have a BMI greater than 28.
The Optifast diet is made up of three phases and the program lasts from 26 to 52 weeks, according to the Optifast website. The initial stage is focused around a full meal replacement plan that then transitions to everyday foods.
People who want to try Optifast will need to have a consultation with a representative before starting the program.
Tip
Optifast programs may be more effective if done in a clinical environment. Clinics that use Optifast will create a program suited to you and your weight loss needs. If you have obesity, medical supervision may be helpful for losing weight.
Phase One: Active Weight Loss Phase
Phase one of the Optifast plan is generally followed for 12 to 16 weeks. In this first phase, people are advised to consume a full meal replacement diet made up of only Optifast products, which includes shakes, bars and soups.
Phase one also consists of monitoring and counseling with a medical provider.
The first phase supplies all of the food necessary to avoid the need for the person following the diet to count calories, according to the Optifast website.
"Overweight and individuals with obesity are more likely to underreport their food intake than healthy weight individuals," the site reads. "Meal replacement provides a predictable number of calories for more consistent weight loss."
Phase Two: Transition Phase
The Transition Phase runs for 4 to 6 weeks, in which dieters transition to a food-based diet, meaning not all of the calories consumed are from Optifast products.
Phase Three: Maintenance Phase
The final phase of the Optifast program can last up to 52 weeks and is intended to provide "diet and lifestyle support for weight maintenance," per the website.
"Patients are encouraged to participate in ongoing support sessions to help maintain their weight loss and manage their long-term weight goals," the site reads. In phase three, people may still consume some meal replacement products from Optifast.
How Much Does Optifast Cost?
The cost of an Optifast plan will vary depending on the specific program, length of the program and the kind of clinical assistance you receive.
While the Optifast website does not provide pricing information upfront, the website ConsumersCompare.org estimates that the program will cost around $150 per week and anywhere from $2,700-$3,900 total.
Optifast is not available in stores and can only be purchased throough clinics, or at doctor's offices.
Risks Associated With Optifast
While you can find Optifast horror stories if you go searching, most of the major drawbacks linked with Optifast are similar to those associated with any meal-replacement diet.
Fatigue
Nausea
Constipation
Diarrhea
Less common side effects include:
Heartburn
Vomiting
Low blood glucose
Gout flare-ups
Cold sensitivity
Dry skin
Hair loss
Brittle nails
Menstruation changes
Changes in your desire to have sex
According to AllinaHealth, you should contact your weight management provider immediately if you experience the following:
Chest pain
Palpitations
Shortness of breath
Lightheadness or fainting
Weakness
Gallstones are another risk associated with meal-replacement diets like Nestlé Optifast, according to AllinaHealth. Gallstones are hard, pebble-like pieces that form in your gallbladder, and losing weight quickly can increase your risk for developing gallstones or increasing the size of an existing gallstone.
Tip
While some people think gallstone cleanses can relieve gallstones, there's no evidence that taking laxatives with gallstones has any effect, per the Mayo Clinic.
Optifast shakes are considered low-calorie meal replacements. One Optifast shake contains 160 calories, 18 grams of carbohydrates, 4 grams of sugar and 16 grams of protein.
Side effects of meal-replacement diets commonly include diarrhea and bloating, per an August 2013 study in ‌Diabetes Spectrum‌
Weight gain is another risk associated with Optifast: As the study in ‌Diabetes Spectrum‌ notes, meal replacement products and diets have limitations.
"A vital part of a comprehensive weight management program is learning to recognize and eat smaller portions at meals and snacks. Relying on replacement products too heavily may hinder this learning process," the study authors write.
"Consuming daily meal replacement shakes and nutrition bars over time can become monotonous for individuals who prefer a large variety in food texture and taste."
While you can lose weight rapidly on a liquid, low-calorie diet, you can expect to regain it when you halt the diet, according to the Mayo Clinic.
To prevent this, you need to learn how to change your behavior, activity level and overall diet. Optifast prizes itself on providing lifestyle education, counseling and support you need to learn how to keep your weight off.
Other Diets Similar to Optifast
Optifast is not the only program on the market that replaces meals with shakes. There are Optifast 800 alternatives that contain similar ingredients and nutrient profiles. No matter which program you choose, always consult a health care professional first.
SlimFast offers meal replacement shakes designed for a variety of diet plans, including keto and diabetic weight loss. You can buy SlimFast shakes and products at places like Costco, Walmart, Amazon and more.
SlimFast customers can buy the products at grocery stores and drugstores. The company's website has resources and help, but no formal testing or follow-up is required. Optifast is available only at clinics, often doctor's offices or hospitals, whose staff stay involved throughout the process.
18 Shake is a meal-replacement company that sells products designed for weight loss. Each shake contains just 90 calories and comes in either chocolate or vanilla.
Almased is a dietary supplement for weight management. You can buy Almased at CVS Pharmacy, Walgreens, Amazon and GNC, according to its website.