Headache accompanied by chest pressure is commonly seen as a result of stress or anxiety. In either situation, these psychological or emotional states bring about a wide array of feelings, ranging from frustration and nervousness to anger and fear. This can begin to take a toll on the body, causing it to respond with physical symptoms.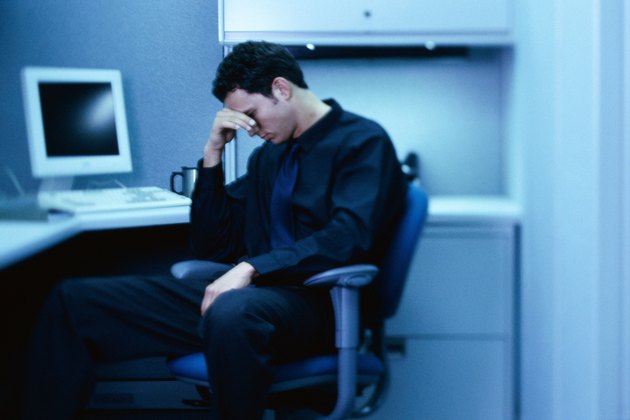 Identification
Though stress and anxiety are sometimes used interchangeably, the two psychological states are quite different. Stress is often characterized as feelings of worry, frustration, aggravation or anger due to thoughts or situations, while anxiety is feelings of panic, apprehension, nervousness or fear, often due to an unknown or indefinable source. Stress is basically a response to a perceived threat. Anxiety, on the other hand, is an almost unreasonable response to a perceived threat.
Symptoms
Besides headache and chest pressure, it isn't uncommon for stress and anxiety to cause other symptoms in response to a given situation or event. According to MayoClinic.com, stress can lead to nausea, heart palpitations, sleep disruptions, forgetfulness, insecurity, sadness, restlessness, withdrawal, irritability and changes in appetite. It may even cause anxiety. Anxiety can trigger panic, resulting in nausea, heart palpitations, dizziness, faintness, chills, hot flashes, shortness of breath, sweating, difficulty swallowing and feelings of doom.
Diagnosis
In either situation, it's best to consult with a doctor. Medical professionals can assess your symptoms, feelings and frequency of these symptoms and feelings as well as your health, medical history and lifestyle, to help determine the cause of the situation. The approach to care for stress and anxiety are different, so diagnosis is crucial.
Stress Management
If stress is the cause of headaches, chest pressure and other associated symptoms, your doctor can help establish a system for stress management. Stress management often goes far deeper than engaging in relaxation methods such as breathing exercises, guided imagery, muscle relaxation or meditation. You may also respond favorably to changing your diet, reducing alcohol intake, limiting caffeine, exercising with greater regularity and getting enough sleep, suggests MedlinePlus.
Anxiety Management
Anxiety is typically treated with a combination of medications and psychotherapy. Sedatives and antidepressants, such as fluoxetine, paroxetine, sertraline, venlafaxine, alprazolam and clonazepam, can help reduce symptoms of anxiety and panic attacks. Cognitive behavioral therapy or psychodynamic psychotherapy can address the cause of your anxiety and panic.
Considerations
While headache accompanied by chest pressure is most often seen stemming from stress or anxiety, other conditions can share these same symptoms. Certain medications, such as dimenhydrinate, dramamine, enalapril, hydroxyzine and vasotec, can sometimes cause you to experience both headache and chest pressure. Food allergies and chemical poisoning can cause this combination of symptoms as well. Even pneumonia and lung disease have been known to cause periodic headaches and chest pressure or tightness. Consult with your doctor to determine the exact cause of your symptoms.
Is This an Emergency?
If you are experiencing serious medical symptoms, seek emergency treatment immediately.