Optifast is a meal replacement program that is meant to help you lose weight rapidly. As you navigate the program, you are supposed to glean the information you need to make the lifestyle changes needed to keep the initial pounds you shed off for good. Optifast is not the only program on the market that replaces meals with shakes. No matter which program you choose, always consult a health care professional first.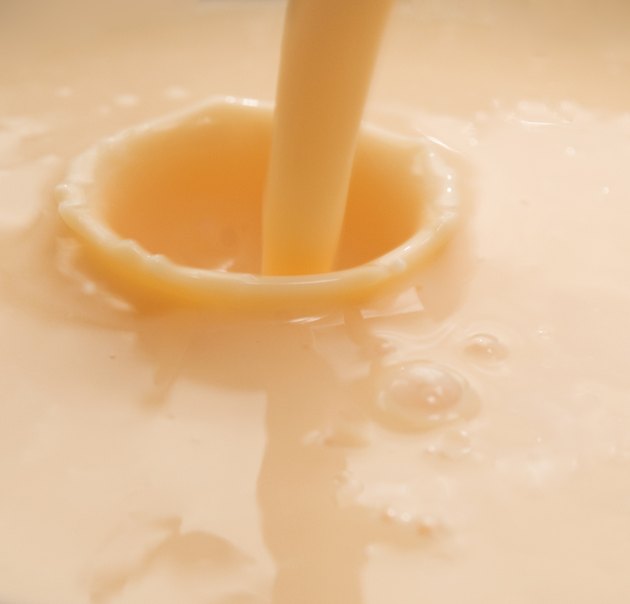 Identification
Optifast has 14g protein per shake. That compares to 10g protein in diet shakes at the grocery store, such as Slim-Fast. The protein in Optifast comes largely from milk, as does the protein in most other diet shakes. However, Optifast does not appear to contain soy protein like other diet drinks do.
Calories
When you consume an Optifast shake, you take in 160 calories. That is somewhat comparable to the calorie content of other diet shakes on the market, with some of the well-known brands having 180 calories. However, commercial liquid diet shakes often contain 220 calories per serving, according to Merck Manuals. With Optifast, in a day of consuming three to four shakes you take in 480 to 640 calories. Very low calorie liquid diets typically provide 600 to 800 calories each day, according to Merck Manuals.
Features
Along with 14g protein, Optifast also has 20g carbohydrate and 3g fat. Optifast has no fiber. That compares to 5g fiber, 23g carbs and 6g fat in a typical over-the-counter brand meal replacement shake. On non-liquid diets that are considered high protein, your carbohydrate content would be limited much more severely, notes the American Heart Association.
Optifast purports to give you 10 to 30 percent of your recommended daily intake for vitamins and minerals in each shake, which is fairly consistent with the claims of other meal replacement shakes that they provide about one-third of needed vitamins and minerals per serving.
Medical Supervision
While you can purchase diet shakes over the counter, medical experts recommend that you do not engage in this type of diet without medical supervision, notes Merck Manuals. You need monitoring to avoid complications, notes MayoClinic.com. The Optifast weight-loss program does incorporate medical monitoring. Product manufacturer Nestlé requires a thorough medical examination for people who want to subscribe to the Optifast program. You also have to visit an Optifast Clinic to participate. You receive medical monitoring as well as a personalized activity plan during the program. You also may access counseling from a registered dietitian, physician or lifestyle councilor as well as discussion groups. Other products available at the grocery store offer advice on their websites but do not make medical monitoring a requirement.
Expert Insight
While you can lose weight rapidly on a liquid, low calorie diet, you are can expect to regain it when you halt the diet, according to MayoClinic.com. To prevent this, you need to learn how to change your behavior, activity level and overall diet. Some grocery-store product plans ease you back into real life by advising you to start out with three meal replacement shakes a day before transitioning to two and then one. You replace the shakes with healthy meals as you go. Optifast purports to give you the lifestyle education, counseling and support you need to learn how to keep your weight off.