People who are overweight can and should build muscle mass. Fat mass and muscle mass are two different types of tissues in the body. One common misconception is that muscle and fat can turn into each other. That is simply untrue. Muscle does not turn into fat, and fat does not turn into muscle. However, by building lean muscle mass, you can ignite your fat-burning process and thus lose fat weight.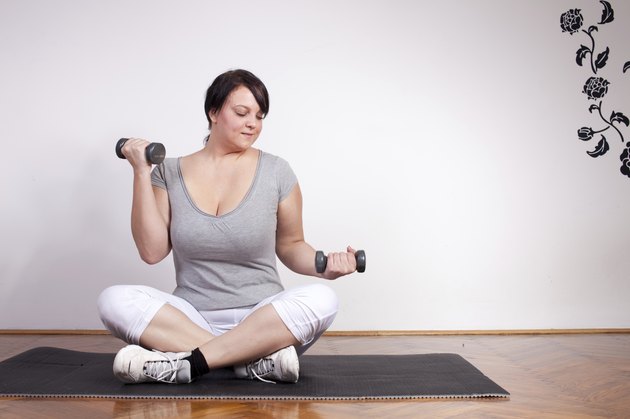 Body Composition
Body composition is the relative percentage of body weight that is fat and fat-free tissue, according to the American College of Sports Medicine. Fat-free tissue is more dense than fat tissue and is considered to be muscle, bones and organs. This means that individuals with more muscle mass will weigh more than someone with less muscle mass. Experts believe men's bodies should be between 12 to 18 percent fat, while women's should be 18 to 22 percent fat, according the University of Iowa Hospitals & Clinics.
Metabolism
Building muscle mass can have a substantial effect on your metabolism. The bodies of people who are larger or have more muscle burn more calories, even at rest. This is crucial for weight loss because 60 to 75 percent of the total calories burned in a day comes from your basal metabolic rate. Basal metabolic rate is the amount of energy, or calories, required to sustain basic life functions without any activity.
Building Muscle
Strength training exercises or weight lifting is the most effective way to build muscle mass and increase your metabolism. Beginners should start strength-training two to three times a week focusing on all of the major muscle groups. It is necessary to start out slow, especially if you are new to exercise or strength-training. Too much too soon can make you extremely sore and deter you from exercise. A gradual increase in the volume and intensity of your strength-training workouts will be most effective.
Losing Fat
After several weeks of strength-training, you may begin to notice a change your body composition. Your clothes may fit better, but your weight is staying the same. This means that you have increased your muscle mass and decreased fat mass, and because muscle is denser than fat, your body weight is not changing. While strength-training is a key factor in weight loss, including aerobic exercise and proper diet and nutrition increases your chances of successfully losing body fat and maintain a healthy body weight.