Elliptical trainers afford you the opportunity to get a cardiovascular workout. Regular cardiovascular, or aerobic exercise helps you stay active, which reduces your risk for heart attacks, strokes and high blood pressure, according to Jonathan Myers, author of the article "Exercise and Cardiovascular Health" published in the 2003 issue of Circulation. As you use an elliptical trainer, exercising long enough each day will help you meet your weight management and fitness goals.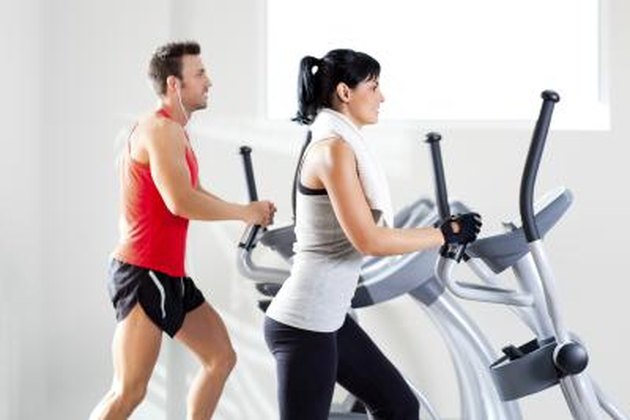 Benefits
Avoiding a sedentary lifestyle through regular exercise reduces your risk of heart disease by 45 percent, according to an article in The New York Times. If you walk or jog the equivalent of 12 miles a week you can reduce your bad cholesterol levels, and longer exercise equivalent to 20 miles a week also increases your good cholesterol. Using the elliptical trainer gives you all the benefits of walking or jogging without the impact to your knees and joints. Dr. Len Kravitz, working with the American Council on Exercise found that elliptical trainers allow you to burn between eight and nine calories per minute, similar to a running pace of 11.5 minutes or performing intense aerobics.
Total Minutes
To gain the most benefit, use your elliptical the equivalent length of walking or jogging between 12 and 20 miles per week. Many ellipticals display the number of miles you have traveled directly on the console. If you exercise five days a week, and it takes you 15 minutes to travel one mile, you need to log between 36 and and 60 minutes each session. If you only exercise three days a week, you need to exercise for between 60 to 100 minutes per session.
Break it Up
A 2007 study published in the journal Diabetologia and led by Lisbeth Eriksen examined the effort of three 10-minute sessions of cardiovascular exercise per day were as effective as one 30-minute session on diabetes patients. In addition to being beneficial to glucose levels, she also found that the effect on the cardiovascular system of the patients was similar. If finding the time to use your trainer for more than 30 minutes at one time is difficult, exercise for 12 minutes in the morning, 12 at lunch and finish off with another round of exercise in the evening.
Make Every Minute Count
Make every minute of your workout count to burn the most calories and continually improve your endurance and fitness level. Spend the first two to five minutes at an easy pace, then increase the resistance and speed of your elliptical striding. Avoid holding or balancing on the handrails, and instead work your upper body by using the movable bars while striding. Spend five to seven minutes each session striding at your maximum intensity level to simulate running fast intervals.