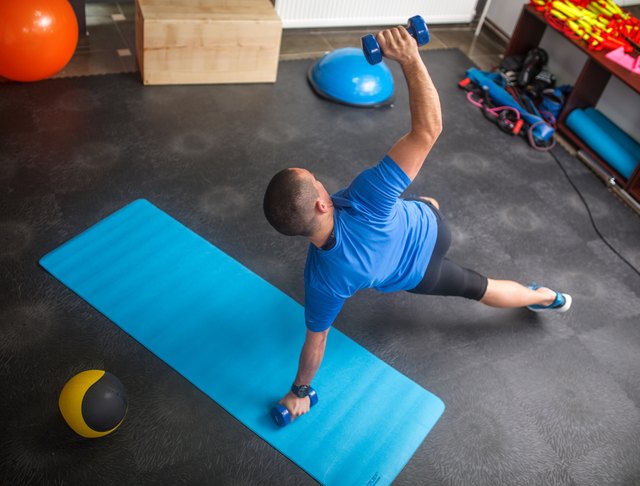 Many gym-goers train two or more body parts in one day using different methods. When you train multiple muscle groups with resistance training, you are ensuring muscle balance and increasing exercise economy. Many muscle groups work together in day-to-day life as well, so it is very practical to engage in training two or more body parts together while liftinging. Three methods of training multiple muscle groups include synergistic muscle training, push-pull training and combining upper and lower body.
Combine Similar Joint Motions
When exercising two muscle groups, it is practical to exercise muscle groups that are involved in similar joint motions. Combine chest and triceps, back and shoulder, back and biceps or legs and abdomen for example. The American College of Sports Medicine states that muscle groups need at least eight to 10 sets in a resistance training session. If you combine muscle groups with similar motions, your time in the gym can be decreased. For example, if you are performing a bench press, you are completing one set for your chest and one set for your triceps as well.
Push and Pull
The National Strength and Conditioning Association acknowledges that muscle balance is important to health, and that maintaining a balance of muscular strength across joints and opposing muscle groups will eliminate injuries that occur from muscular imbalances. A methodology that trains opposing muscles -- or antagonists -- is the push-pull method. You will combine muscle with opposing actions and perform exercises between the muscle groups in an alternating fashion. For example, you will perform a chest press and then perform a bent-over row. Combine chest and back, biceps and triceps, abdomen and back or hamstrings and thighs for example.
Upper and Lower Body Workout
Another method would be to perform exercises for an upper body and lower body muscle group. Though typically taking longer per exercise session, this method of training multiple muscle groups can cut back on the amount of sessions you perform in a week. You can alternate between upper and lower body muscle group exercises, or you can perform the upper body portion and then the lower body portion afterward. An alteration between the upper and lower body exercises may cut back on time though. To increase productivity from this method, the American College of Sports Medicine suggests working from larger, multi-jointed exercises to smaller single-joint assistance exercises.
Recovery Considerations
No matter what method of training multiple muscle groups you use, the muscles will need proper rest before engaging in resistance training again. The American College of Sports Medicine reports that you should give your muscles 48 hours of rest after activity. If you performed an upper and lower body workout in the same day, you should consider waiting two days before training again. If you performed two muscles groups in the same body area one day, you can use the next day to exercise the opposite body area. Your time needed to recover may decrease as your body begins to adapt to training.