Glutathione, an amino acid normally stored in the liver, is considered one of the body's main defense mechanisms against cumulative stresses creating oxidative damage that can result in many ailments. Glutathione, a tripeptide, is composed of three amino peptides namely: L-glutamate, L-cysteine and glycine. In addition to being a powerful antioxidant, glutathione also plays a role in aiding the excretion of some drugs by rendering them more soluble. Glutathione also acts as a co-factor for a variety of cellular enzymes.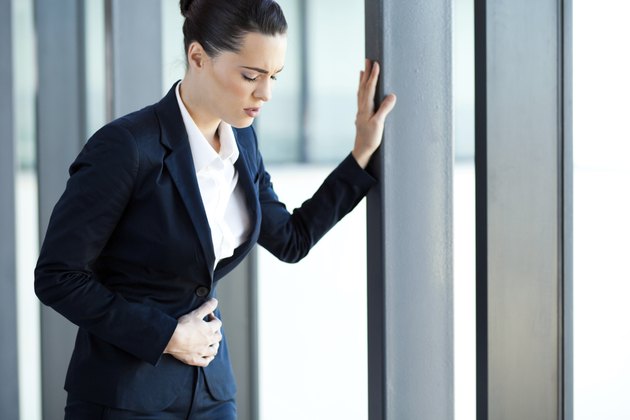 Bronchial Constriction
A study published in the August 1997 issue of the "American Journal of Respiratory and Critical Care Medicine" pointed out that inhaled glutathione supplements can cause a severe reduction in the size of the airways, bronchoconstriction, leading to breathing difficulties in predisposed patients. Glutathione supplements administered through inhalation are effective in reducing the oxidative damage created by environmental and inflammatory processes. However, as the study suggests, nebulized glutathione can lead to the local formation of sulfite, a substance suspected to reduce the caliber of the airway and worsen an asthmatic's breathing. Sulfite gives the glutathione inhaled preparation a characteristic "rotten egg odor." Bronchial constriction manifests by cough, difficulty breathing and breathlessness, making nebulized glutathione unsuitable for patients with asthma.
Gastrointestinal Side Effects
Drugs.com cites abdominal cramps and bloating as possible gastrointestinal side effects for the use of oral glutathione precursors, usually in powder form. Oral glutathione supplementation is usually done through supplying glutathione in its precursor form because it is more resistant to stomach acids and digestive enzymes. The manufacturers assert that the gastrointestinal adverse effects should be minimal when the powder is reconstituted and rehydrated properly.
Allergies
According to Drugs.com, powdered oral glutathione precursors may cause mild allergic reactions. Most commonly, some patients suffer from a transient rash resembling urticaria upon ingestion of the product. Because glutathione precursor oral preparations are bovine milk extracts, patients with milk allergies may be more likely to develop allergic reactions to the product. The allergy is usually self-limited and abates upon discontinuation of the product.