Police officers train at a police academy to learn the skills they'll need. The SUNY Canton academy's program, for example, teaches administrative procedures; justice administration; basic law; patrol functions/procedures, including traffic and investigations; communication skills, crowd control, emergency medicine and management of critical incidents; K-9 patrol, suicide prevention and alcohol beverage control laws; and finally, physical fitness and wellness. Recruits must pass a physical fitness test, or PFT, to graduate from a police academy.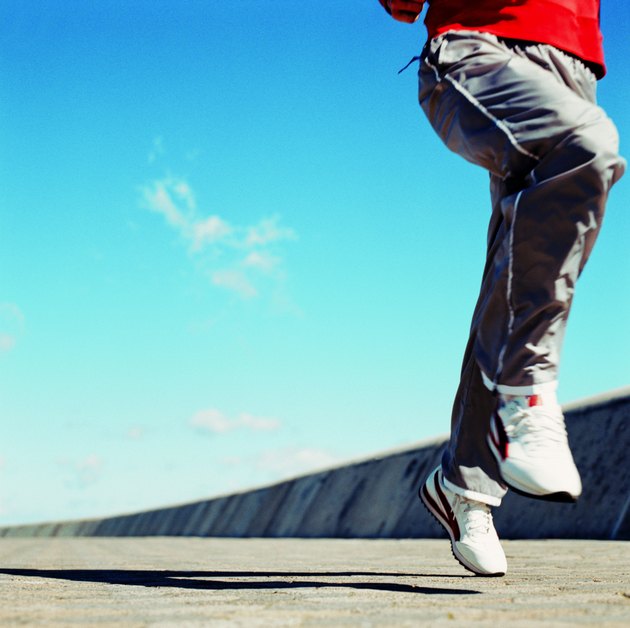 Pre-Academy Workouts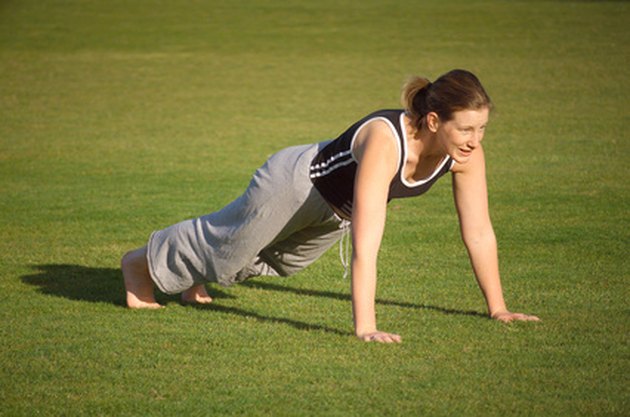 Military.com offers a workout plan to prepare you for academy fitness; the plan involves pull-ups, push-ups, sit-ups and running.
The pull-up pyramid method builds strength and endurance. Begin with one pull-up. Rest. Then do two pull-ups. Rest. Continue doing three, four, five and so on, until you cannot do any more pull-ups before resting. Repeat the process in reverse, doing the maximum number, resting, doing one less, resting and continuing until you reach one. Next, do five one-minute sets of as many push-ups as you can, keeping your hands just outside the width of your shoulders. Strengthen your abdomen by doing five 30-second sets of about 20 sit-ups in each set.
Military.com also suggests the "Four Mile Track Workout" to increase endurance. Jog one mile in seven to eight minutes, do three sets of 1/4-mile sprints, jog 1/4 mile in one minute and 45 seconds, continue with six sets of 1/8-mile sprints and finish with a 1/8-mile jog in one minute.
Workouts in the Academy
Recruits at the Santa Rosa Junior College's police academy training program run an average of about 90 miles throughout their entire thee-month training period, usually in distances of 1 1/2 to 4 miles, or 20 to 40 minutes, two or three times a week. Students warm up every day with about 80 push-ups and 250 crunches, and they work out regularly with weight machines to increase upper body strength. To build their speed and power, they sometimes run sprints as well. Workouts vary by academy; many schools publish pre-academy and during-training physical workout schedules on their websites.
Post-Academy Workouts
According to Police Link, police officers need flexibility to function efficiently on the job. The site recommends daily stretching exercises during which you hold each stretch while you inhale and exhale deeply four to five times. Stretch the thighs, lower back and hamstrings throughout the day as well, to avoid injuring yourself if you have to move quickly after hours of sitting.
Police Link also recommends the pyramid plan and the PT superset for post-academy officers to stay in shape. The pyramid plan maintains fitness through pull-ups, sit-ups and push-ups in increasing numbers, like the pyramid pull-up plan in section 1. Once you can complete 36 pull-ups, 72 push-ups and 108 sit-ups, increase the number of steps up the pyramid until you complete a total of 100 pull-ups, 200 push-ups and 300 sit-ups.
The PT superset requires repeated sets of exercises with no rest. Build your strength until you can complete the following 10 times in a row with no rest: five to 10 pull-ups, 10 push-ups, 10 sit-ups, 10 wide push-ups and 10 reverse crunches. To add cardio benefit, start each set with 10 to 20 jumping jacks. The entire workout should take about 20 minutes.