The thyroid is a gland located in the neck, close to the trachea, and produces thyroid hormones that affect cellular differentiation, metabolism and growth. Diseases or health conditions can impact the function of the thyroid gland, making it overactive or underactive. Certain fruits and vegetables are thought to help maintain thyroid health and even bring the thyroid gland into balance, reversing damage from disease or the aging process.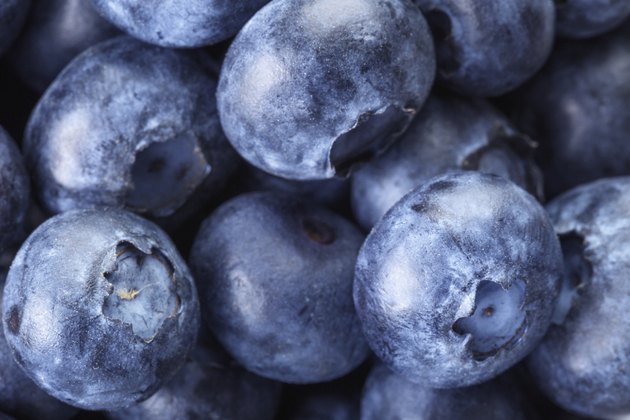 Blueberries
Blueberries are high in antioxidants and, according to the University of Maryland Medical Center, are helpful in reducing symptoms of hypothyroidism, or underactive thyroid. According to Iowa State University, researchers at the USDA Human Nutrition Center ranked blueberries as No. 1 in antioxidant activity as compared to 40 other fruits and vegetables. Blueberries are high in vitamins and minerals and help keep your body healthy and fight off disease.
Cherries
Cherries are high in antioxidants and vitamins and give the body a great level of protection against disease. Cherries, according to UMMC, are an excellent fruit to maintain thyroid function.
Tomatoes
Tomatoes are an excellent source of selenium, which is thought to be good for the thyroid gland by regulating function and improving overall immune function of the body, according to Oregon State University. Selenium helps regulate thyroid hormone activity and neutralizes unstable molecules in the body, according to Harvard Medical School.
Squash
Squash is a vegetable that is high in antioxidants and, according to UMMC, is good for the thyroid gland, as it may help with an underactive thyroid. Iodine is found in squash, and your thyroid gland requires iodine to function properly. If you are deficient in iodine your thyroid does not have the building blocks to make thyroid hormone.
Peas
Zinc is an important trace element that is important for the thyroid gland and is found in peas. According to the website Women to Women, zinc deficiency is more common in women with hyperthyroidism, or overactive thyroid, because excess thyroid hormone in the body increases the elimination of zinc in the urine.