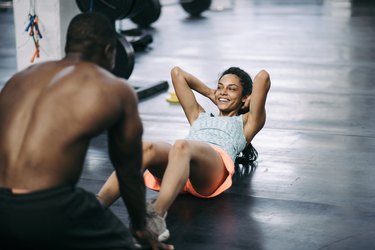 For crunches to be effective, it's imperative that you maintain proper crunch form. This strength-building exercise, which can be done anywhere with no equipment and no cost, is fairly straightforward and simple when rendered properly. And once you've mastered the correct form for the standard crunch, you can try variations like the vertical leg or reverse crunch.
Proper Crunch Form
Properly executing crunches for abs may not be as intuitive as it seems. Fortunately, there are plenty of resources that can teach you the right positioning and help avoid injury. The American Council on Exercise (ACE), for example, is known for giving detailed directions on proper form. Incorporating some of ACE's key concepts into your crunch could look like this:
First, lie flat on your back with your knees bent, feet flat on the mat and hands behind your head. Then angle your chin slightly toward your chest and curl your torso up toward your knees, while your feet, tailbone and lower back stay flat on the mat. Once you've reached the top of your comfortable range of motion, you can then lower your torso back to the mat.
ACE also offers several recommendations for keeping your body in proper alignment, including:
Let your back settle into a neutral, relaxed position, neither arched nor flattened against the mat.

Pinch your shoulder blades together as you shift your elbows back.

Make sure your head is in line with your spine.

Keep your neck relaxed.

Vertical Leg and Reverse Crunch
For those intrepid "crunchers" out there who want to try something different from the standard crunch, the vertical leg crunch is a challenging alternative.
ACE recommends beginning by lying on your mat with your lower back flat. Next, they suggest positioning your hands behind your head for support and extending your legs straight up in the air, crossed at the ankles with a bend in the knee. Then, contracting your abdominal muscles, lift your torso toward your knees, exhaling when contracting upward and inhaling when returning to starting position.
Another iteration of the standard crunch is the reverse crunch. ACE suggests that you first lie on the floor with your hands beside your head or extended flat to your sides. Cross your feet at the ankles and lift your feet off the ground, creating a 90-degree angle with your knees. Keep your lower back on the floor as your contract your stomach muscles. Your legs will lift with each contraction.
Crunch on an Exercise Ball
A May/June 2001 ACE-commissioned study led by Peter Francis, PhD, the Biometrics Lab at San Diego State University, compared the most common abdominal exercises and ordered them from most to least effective. Crunches on an exercise ball were ranked as the third most effective ab exercise.
ACE lays out steps for proper sit-up form and crunch position when using an exercise ball. Start by sitting properly on an inflated stability ball. It should compress about 6 inches under your body weight. Have your feet flat on the floor. Lean backward on the ball so that your shoulders, tailbone and back are making contact with it. Make a 90-degree bend at the knees, so that your thighs are parallel to the floor and positioned hip-width apart, with your feet facing forward.
Situate your hands in the same way you would for the standard crunch, behind your head, shoulder blades together and head aligned with your spine. The upward movement is also much like the standard crunch, flex your chin slightly toward your chest, curl your torso toward your thighs and keep your feet firmly planted. Continue curling until your upper back is lifted off the ball and hold this position.
On the downward movement, inhale and lower your torso back toward the ball, with your feet planted and lower back and tailbone in contact with the ball.
Common Crunch Mistakes
It won't matter how many crunches you do if you're not doing them correctly. Improper form could lead to disappointing results and injury in some cases. The NHS points to some of the most common mistakes made that reduce the effectiveness of stomach crunches:
Tucking the chin too far into your chest (imagine a tennis ball between your chin and chest)
Jerking up into a crunch
Not keeping your abs contracted throughout the exercise
Raising yourself too high off the floor
The NHS also says that all the work should come from the abs, not the neck.