The sit-up remains a go-to abdominal exercise and a staple in military PT tests and grade school P.E. However, it's also sometimes criticized as being limited in benefit and a possible cause of back injury. Your form goes a long way in making the sit-up effective and safe, so make sure you're doing them properly.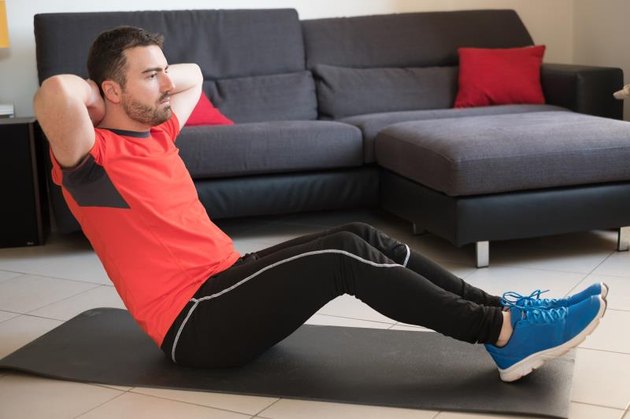 Proper Form for a Sit-Up
Step 1
Lie on your back on an exercise mat. Bend your knees and plant your feet about hip-distance apart. Place your hands on the back of your head, where it attaches to your neck. Point your elbows to the sides of the room.
Step 2
Exhale and pull your belly button in toward your spine as you gently raise your torso by bending your hips and waist. Lift up until your torso is just inches from your thighs.
Step 3
Inhale and control your return to the start position to complete one repetition.
Common Mistakes
The sit-up can cause discomfort or pain in the back and neck when done improperly. To make sure your form is perfect:
Keep your hands light on the back of your head and the elbows open wide. Never tug or fold your neck.

Plant your feet firmly in the ground and prevent them from rocking up as you sit up and down.

Move slowly. Rapid movements use momentum, rather than muscle, meaning you get less out of each sit-up.
To Anchor or Not Anchor
The sit-up is sometimes done with a spotter holding your feet or by anchoring your feet under a foot brace or low overhang. Avoid this assistance, as it cheats your rectus abdominis — the front abdominal muscle — from working as hard during the exercise and puts too much emphasis on the activity of the hip flexors. This can result in excessive stress on the lower spine and possible harm to the lumbar discs.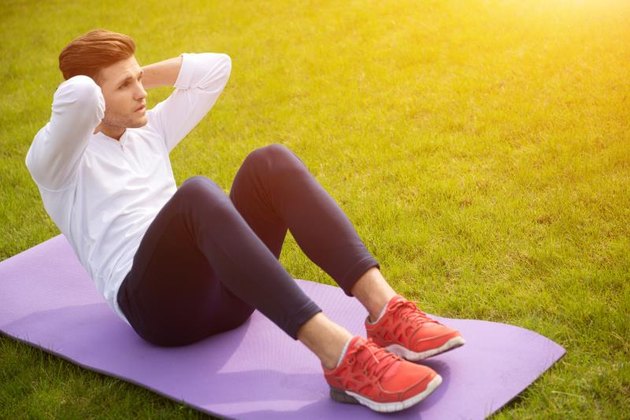 Potential Back Stress
The sit-up is a controversial exercise because it potentially puts too much pressure on your lower back, especially for people with weak abdominals or low-back conditions. Repeated flexing of the spine required by the sit-up also squeezes the discs of your back and may lead to bulging and potential herniation.
Sit-Up Limitations
The sit-up is also relatively isolated in terms of its ability to define and strengthen your abdominal muscles. When you sit all the way up toward your thighs, rather than stick to a crunch that lifts your torso just 30 to 45 degrees off the floor, the hip flexor muscles tend to take over and minimize the use of the rectus abdominis. This makes the crunch a more effective move.
Even if done properly, the sit-up fails to address all the muscles of your core — the area that encompasses the entirety of your torso and acts as the center of body power. The sit-up doesn't strengthen the side oblique abdominal muscles responsible for side bending and rotation or the deep internal abdominal muscles that help promote proper form and resist fatigue. The sit-up also leaves the lower back and paraspinal muscles out of training.