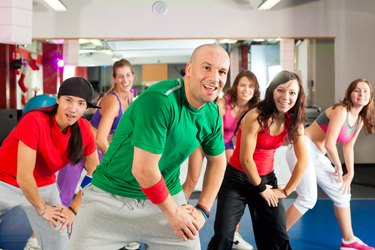 Although Zumba was first introduced in the United States in Miami in 1999, the Latin-inspired dance class originated in Colombia more than a decade earlier. Zumba, dubbed a "dance party" rather than a workout, grew from an improvised dance class in a Colombian aerobics studio in the '80s to a widespread exercise phenomenon.
Latin Influence
Although the fitness program of Zumba started in the late 1980s, Zumba has roots in Latin dances such as the merengue, salsa, cumbia and samba that date back in some cases to the 17th and 18th centuries. Flamenco, for example, originated in Spain in the 18th century. Cumbia, which originated in Colombia as an infusion of Latin and African influence, established a presence in the early 19th century. The interplay of these Latin rhythm and dance styles come together to define Zumba.
The First Class
Alberto "Beto" Perez initiated the Latin dance class now known as Zumba in an aerobics class in Cali, Colombia in 1986. Perez arrived to teach class one day without his traditional aerobics music, so he substituted Latin music he had with him at the time. The improvised class was a hit with his students. Perez, along with Alberto Perlman and Alberto Aghion, trademarked the Zumba name in 2001, two years after Perez introduced his Latin-inspired fitness class in the United States.
Zumba's Growth
Zumba established a foothold in the U.S. fitness industry after the considerable success of infomercials launched in 2002. By 2007, Zumba had spread to six continents and established credibility with such fitness organizations as the American Council on Exercise, the Aerobics Fitness Association of America and the IDEA Health and Fitness Association. The original Zumba class included the stylings of El Gran Combo and Las Chicas del Can, and the sound and feel of Zumba remains grounded in Latin music and dance.
Evolution
Zumba classes and videos offer a high-intensity cardiovascular workout that last 50 minutes to an hour, on average. Since its origination in 1986, Zumba has evolved to include not only more traditional Latin dance exercise, but hip hop, reggaeton, pop and more. Official Zumba instructors are trained through the Zumba Academy, with certification options in toning, water-based exercise, step, basic Zumba and Zumba customized for older adults and novice exercisers.