Kyphosis is an unfortunate condition with the appearance of a hunchback and is a common problem both for women with osteoporosis and weight lifters suffering from a muscular imbalance and poor programming. Left untreated, kyphosis limits your ability to perform overhead activities such as the shoulder press or raising a box above your head. Correcting the condition is a matter of discipline. Apply the proper exercises and strategies to correct muscular imbalance and improve spinal health.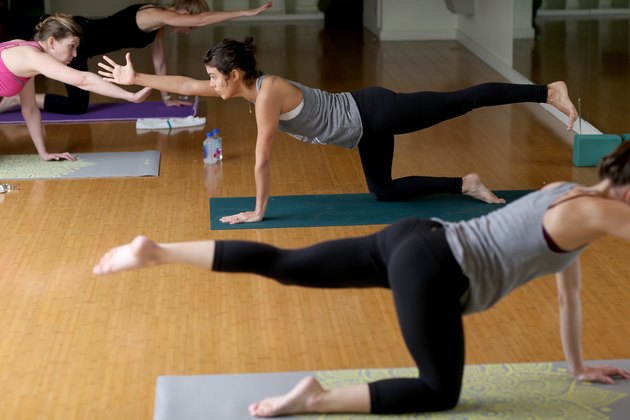 Shoulder Packing
As a warm-up activity, stand straight but relaxed. With your abs tight, pull your shoulders blades down and back. Visualize the two blades touching. Hold the contraction for two seconds. Perform 10 reps. You'll feel a squeezing sensation between them. If this is too difficult, try the exercise lying flat on your back. Shoulder packing is also applicable to other upper-body exercises. When performing an overhead press, a turkish get-up or even a front squat, practice shoulder packing. It will promote proper technique while strengthening the scapular complex.
Use Your Abs
The inability to properly stabilize the abdomen is the culprit of a variety of back issues. If you find it difficult to brace the abdomen when performing any variation of shoulder packing, include the bird dog. Begin on all fours. Toes are tucked under the feet, wrists and palms lined under the shoulders, abs tight. Raise your right arm and left leg simultaneously, but don't raise them above your hips. Balance your weight through left arm and right leg. Stay square. Return to the starting position and switch sides. Ten repetitions is a good starting point. If you remain uncomfortable with the exercise, consider taking a yoga or Pilates class, as this exercise and other back-strengthening moves are regular elements of the curriculum.
Stretch the Chest and Back
Weak, tight muscles in the chest and back are common symptoms of kyphosis. For the chest, a simple wall stretch will suffice. Stand with one side against the wall, the arm up and palm flat against the wall, then turn to face away from the upturned arm. Do this for both sides. For the back, try a hanging lat stretch. Find a pullup bar, grab it with an overhand grip, relax and hang from the bar. Perform each stretch for 30 seconds.
Foam Roll
Rehab specialist Dr. Jeffrey Tucker recommends foam rolling as a strategy for addressing kyphosis. Using a foam roller in this way, he believes, can relieve deep tension in the muscle tissues. Use a firm roller for the lower back. Place the roller under the hips. Keep the abs tight as if you were doing a crunch. Using the legs, rock back and forth. The roller should start at the low back and stop just short of the shoulder blades. Repeat for 10 repetitions or 30 seconds.