Fiji water is an expensive alternative to tap water. Fiji water is artesian water sourced on the island of Fiji. Artesian water is defined by the U.S. Food and Drug Administration as "water from a well tapping a confined aquifer in which the water level stands at some height above the top of the aquifer." Artesian water is not mineral water, however, and therefore must not meet the minimum 250 ppm concentration of designated "mineral water" in the U.S.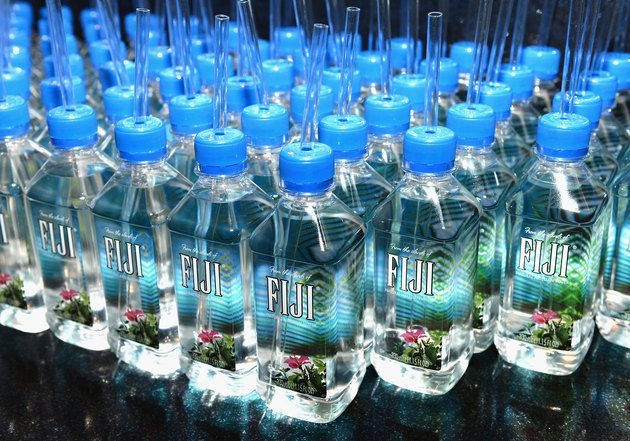 Eight Cups a Day
Fiji water is one way to obtain your eights cups of water a day. The National Institutes of Health recommends that all adults consume at least eight cups of water a day. This is approximately the same amount of water that you lose through perspiration, urination and respiration each day. Your body loses more water in hot, humid weather or when you are engaged in heavy exercise.
Mineral Content
Some consumers may confuse Fiji water for mineral water, however it is not. Any product labeled mineral water in the U.S. must contain at least 250 ppm dissolved salts. Fiji water is artesian water, meaning it flowed downhill into an aquifer. Fiji water contains 0.26mg fluoride and 208mg electrolytes per liter including a mix of sodium, potassium and bicarbonate.
Safety
Fiji water is sourced from wells on the island of Fiji. Water is tested before and after transportation overseas to check quality and safety. The U.S. Food and Drug Administration regulates the safety of all bottled water sold in the U.S., regardless of where it was sourced, to ensure it was bottled and transported under sanitary conditions.
Recommendation
Fiji water is sold nationwide, marketed as a healthful alternative to sugar-sweetened beverages. However, Fiji water has no nutritional benefits above and beyond those of drinking water, and has a lower concentration of minerals than mineral water. The fact that Fiji water is a multimillion dollar industry, however, may be in part because many consumers believe otherwise.