Mineral water is a healthy, calorie-free beverage option in pregnancy. It contains higher levels of naturally occurring minerals than tap water and can also be naturally carbonated. Pregnant women have increased mineral and hydration needs, making mineral water a better choice compared with soft drinks or calorie-dense beverages.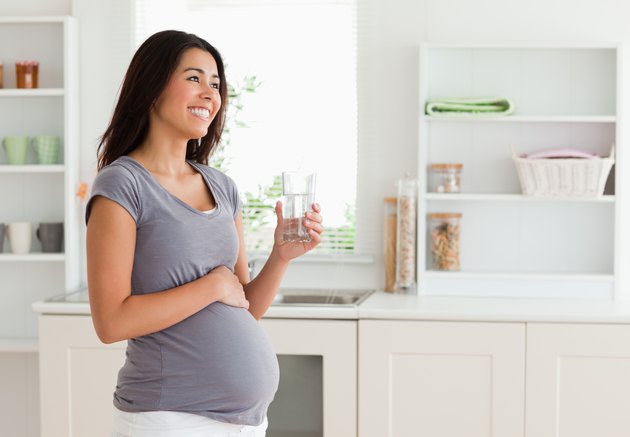 Mineral Water Basics
By definition, mineral water is naturally or artificially infused with mineral salts or gases through carbonation. The term "natural mineral water" is regulated a bit differently; it must be obtained directly from an underground source and cannot be subjected to any treatment except carbonation or iron or manganese removal. Mineral water contains whichever minerals happen to be present when drawing from the source, including calcium, iron, sodium and potassium.
Benefits of Mineral Water
Pregnant woman are advised to drink about 12 cups of fluid per day. The true benefit to mineral water -- or water in general -- is its lack of calories and ability to keep you hydrated throughout pregnancy. Pregnant women also have increased calcium and iron needs, which can be found in higher amounts in mineral waters compared to municipal tap water. A 2003 study published in the "International Journal of Laboratory Hematology" found that consuming a brand of natural mineral water assisted in the prevention of iron deficiency in pregnancy.
When comparing mineral water to tap water, you must remember that different water sources and local regulations will affect what levels of minerals are found in the water coming from your faucet. Finally, some pregnant woman report relief of nausea and vomiting through carbonated beverages and mineral water, which contain those fizzy bubbles you may be craving.
All Things in Moderation
One important thing to note is mineral water may contain higher levels of sodium, so check the nutrition facts label for the brand you drink. Excess sodium can lead to fluid retention, so if you are experiencing swelling, plain water may be the best choice. In terms of calcium and iron levels, mineral water is low enough that even if you consumed 8 cups per day, you still would not meet the estimated average requirement. Therefore, getting excessive calcium or iron though mineral water is not a concern.
Making Smart Drink Choices
Excess weight gain in pregnancy can increase your risk for complications. One way to prevent excess weight gain is making smart drink choices. Mineral and tap water will hydrate your body without all the excess calories from juice, sweet tea, sports drinks and sodas. One alternative is flavored mineral water. Combining mineral water with a splash of juice, mint, fresh fruit, lemons or limes is a tasty way to spice up your beverage while consuming fewer calories.