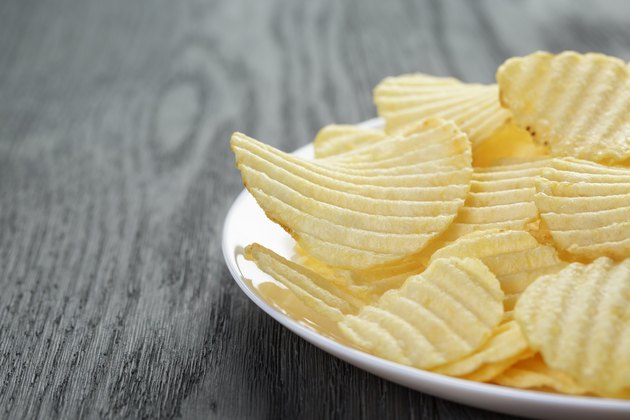 With a heavier texture than traditional potato chips, baked Lay's Original Potato Crisps have no trans fat, gluten, casein, lactose, MSG, porcine or soy. These ingredients are common allergens. Gluten is a protein found in wheat, rye and barley. Casein is a protein found in milk. Lactose is a sugar found in milk. MSG, or monosodium glutamate, is a flavor enhancer. Soy is one of the eight most common allergens, accounting for 90 percent of allergic reactions to foods, according to the U.S. Food and Drug Administration. Baked Lay's Crisps include soy-based ingredients.
Nutrition Facts
One, 1-oz. serving of Baked Lay's Original Potato Crisps has 120 calories with 15 calories from fat, with 2 g of total fat with 1 g of polyunsaturated and 0.5 g of monounsaturated fat. A single serving has no cholesterol, 180 mg of sodium, 250 mg of potassium, 23 total carbohydrates with 2 g of dietary fiber, 2 g of sugars and 2 g of protein.
Ingredients
Baked Lay's Original Potato Crisps contain dehydrated potatoes, modified food starch, sugar, corn oil, salt, soy lecithin, leavening, monocalcium phosphate and sodium bicarbonate and dextrose, with no preservatives. Baked Lay's Barbeque Crisps contain the same ingredients as the Original Crisps, plus molasses, wheat starch, soy flour, onion powder, brown sugar, fructose, natural flavor with milk, barley and chicken, torula yeast, chili pepper, tomato powder, soybean oil, garlic powder, citric acid, spices, paprika and yeast extracts.
Vitamins and Minerals
One serving of Baked Lay's Potato Crisps provides 2 percent of the daily values for calcium, 4 percent of thiamin, vitamin C, riboflavin and magnesium, 6 percent of niacin and phosphorus and 8 percent of the daily value for vitamin B6. The U.S. Food and Drug Administration established these percentages, based on a 2,000-calorie diet. According to these guidelines, and in comparison to the vitamins and minerals in Baked Lay's Crisps, your daily diet should consist of 1,000 mg of calcium, 1.5 mg of thiamin, 60 mg of vitamin C, 1.7 mg of riboflavin, 400 mg of magnesium, 20 mg of niacin, 1,000 mg of phosphorus, and 2 mg of vitamin B6.
Comparison
Comparing baked versus fried potato chips, baked crisps have substantially less fat. While the Baked Lay's Original Potato Crisps have 2 g of total fat, Lay's Classic Potato Chips have 10 g of total fat. That is a substantial difference. According to MayoClinic.com, the daily value for total fat should not exceed 65 g.