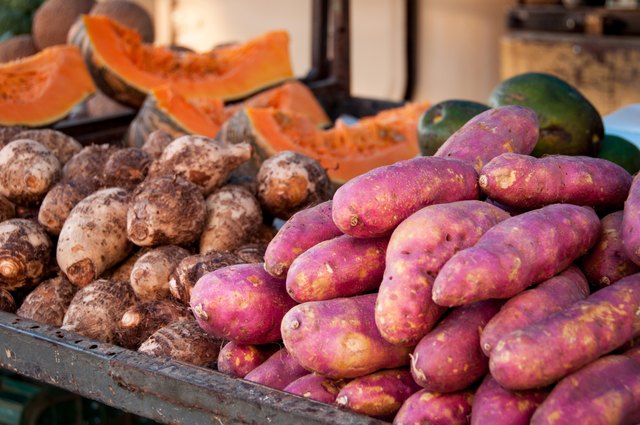 Breast cancer is one of the most common tumor-causing cancers to affect women, according to a 2012 article published in Today's Dietitian. When you're diagnosed with breast cancer, you receive a pathology report that tells you the type of hormone receptor that signals cancer cell growth. Estrogen-receptor-positive breast cancer indicates estrogen signals your cancer cells to grow. A low-fat, plant-based diet is recommended for women with this type of breast cancer.
Fruits and Vegetables
Fruits and vegetables are naturally low in fat and rich in health-promoting nutrients. A 2007 study published in The Journal of the American Medical Association investigated the effects of a diet high in fruits and vegetables on breast cancer recurrence in a large group of women. The early stages of this study found that women with a higher intake of carotenoid-rich fruits and veggies, such as leafy greens, sweet potatoes and nectarines, had a lower risk of cancer recurrence. Include a variety of fruits and vegetables, aiming for five to seven servings a day, in your diet plan to ensure you get all the nutrients your body needs to help you fight cancer. In addition to those rich in carotenoids, apples, citrus fruits, berries, mushrooms and seaweed also make good choices.
Whole Grains
Whole grains also make a good food choice for women with estrogen-receptor-positive breast cancer. These low-fat plant foods are rich in iron, magnesium, B vitamins and fiber and are considered cancer-fighting foods, according to Today's Dietitian. Based on the dietary guidelines, at least half your grain servings should be whole grain. Good choices include oatmeal, quinoa, brown rice, whole-wheat bread and pasta and whole-grain ready-to-eat cereals.
Nonfat Dairy and Lean Protein
Limiting daily fat intake to 15 to 20 percent of calories may also be beneficial for women with estrogen-receptor-positive breast cancer. Including nonfat sources of dairy foods and lean proteins can help you reduce your overall fat intake. Skim milk, nonfat yogurt, white-meat poultry, fish, beans and tofu make good choices. Red meat is fine to eat, but keep it lean, such as sirloin or pork tenderloin, and limit your intake to 4 to 6 ounces a week, suggests the Dana-Farber Cancer Institute.
About Soy and Flaxseeds
You may be wary about including soy foods, which are plant-based sources of estrogen, or phytoestrogens, on your diet plan. While the data surrounding soy and its effect on estrogen-receptor-positive breast cancer is unclear, the Dana-Farber Cancer Institute says if soy is a regular part of your usual eating pattern, you can continue to eat it in moderate amounts, which is two to three servings a week. The institute does, however, recommend you include natural sources of soy such as soy milk, tofu or edamame, which have lower levels of phytoestrogen compared to soy-concentrated foods such as soy protein powders or soy-based vegetarian "meats." Flaxseeds, which are rich in omega-3 fats and considered cancer-fighting foods, are also a source of phytoestrogens. Like soy, they should be consumed only in moderate amounts -- no more than 2 to 3 tablespoons a day, according to the Academy of Nutrition and Dietetics.