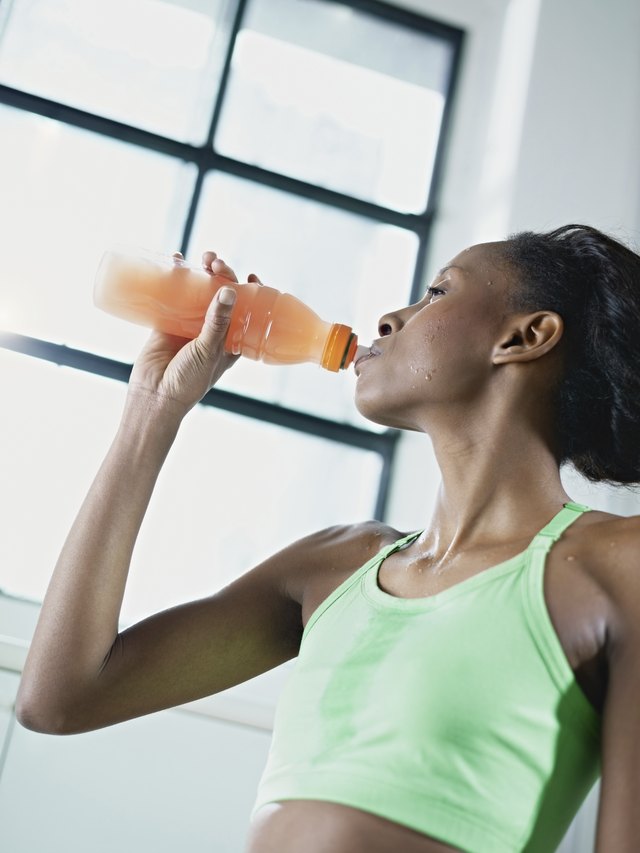 Whether you lead an active lifestyle or you are working out, you might want to consider drinking some kind of fitness water. According to the Mayo Clinic, you should drink eight, 8 oz. glasses of water per day. If you are especially active and workout on a regular basis, your needs may increase. Propel Fitness Water keeps you hydrated and replenishes electrolytes with only 10 calories per serving.
Hydration
Propel Fitness Water can help you stay hydrated during your workouts and throughout the day. Gatorade specifically adds a hint of flavor to its Propel Fitness Water in order to keep you drinking. Drinking Propel Fitness Water throughout the day keeps you hydrated. Your body is made up of 60 percent water, without replenishing lost fluids, you risk becoming fatigued and your body may become unable to perform functions to maintain homeostasis.
Electrolytes
When you sweat, you not only lose fluid but you also lose electrolytes. Sodium, magnesium and potassium are electrolytes that keep your body's cellular functions going. According to the paper "Foods and Fluids for Fitness" written by Susan Kundrat, MS, RD, LD, lost electrolytes during exercise can result in fatigue and muscle cramping. Propel fitness water contains 35 mg of sodium per serving to help replenish lost electrolytes.
Calorie Content
Propel Fitness Water has a low-calorie content but can still maintain fluid and electrolyte replacement. According to Kundrat, Propel Fitness Water is a good alternative to a regular sports drink for those that are concerned about taking in extra calories during a workout. For one serving of Propel Fitness Water, you will consume only 10 calories. Kundrat goes on to explain that her research has shown, consuming calories while exercising can actually lower total calories eaten in a day for the average person.