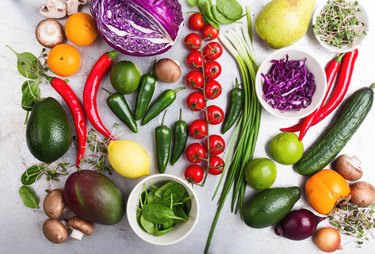 Adopting a Daniel Fast menu isn't as challenging as it initially appears. You'll have unlimited access to all fruits, vegetables, whole grains and legumes. By adding tasty seasonings and preparing meals according to the plan's guidelines, you'll be well positioned to achieve your desired results.
Tip
The Daniel Fast menu includes unlimited quantities of vegetables, fruits, legumes and whole grains. Nuts and seeds, quality oils and non-dairy beverages also play key roles in this vegan-friendly eating plan.
Daniel Fast: Origin and Purpose
When you're switching to a healthier lifestyle, seeking spiritual guidance may help you to stay on the right path, advises All About Prayer. The Daniel Fast, a 21-day Bible-based cleansing regimen, takes this approach a step further.
This vegan-friendly plan is inspired by the Old Testament's Book of Daniel, Chapter 10, verses 2-3: "At that time I, Daniel, mourned for three weeks. I ate no choice food; no meat or wine touched my lips; and I used no lotions at all until the three weeks were over."
Following the Daniel Fast menu requires you to temporarily remove some less-than-healthy foods from your diet. However, this eating plan also has an even stronger spiritual component, as it offers Christians an opportunity to pursue a more profound relationship with God.
Although the Daniel Fast is biblically based, the Bible doesn't order Christians to follow the tenets of this eating plan. However, the Bible does emphasize that well-structured fasting can lead to positive outcomes.
The Daniel Fast menu is essentially a plant-based diet that includes unlimited quantities of raw or simply prepared foods, states Faith Temple Church of God in Christ, based in Albuquerque, New Mexico. In contrast to many other fasts, the Daniel Fast doesn't restrict food quantities, and there aren't any meal scheduling instructions.
If you decide to embark on the Daniel Fast, you'll have access to the entire range of healthy vegetables and fruits. You're encouraged to eat fresh, frozen or canned varieties and no-sugar-added fruit juices are also permitted. Whole grains such as whole wheat, oats, quinoa, brown rice and amaranth are also on the Daniel Fast menu.
Canned and dried legumes are an important component of the Daniel Fast menu, states the Faith Temple Church. Examples include black beans, lentils, kidney beans and split peas, among others. Olive oil, sesame oil and other high-quality oils are well suited to sautéed and stir-fried dishes. By adding a good variety of nuts, seeds and nut butters, you'll have the makings of healthy on-the-go snacks.
The Daniel Fast menu does limit your beverage choices. To keep your body well hydrated, you're encouraged to drink lots of water daily. Unlimited quantities of coconut milk, rice milk, soy milk and unsweetened almond milk are also allowed on the plan.
Avoid These Off-limits Foods
The Daniel Fast menu guidelines include an extensive list of prohibited foods, notes the Faith Temple Church of God in Christ. For starters, all animal, meat and dairy products are off limits. Baked goods such as pastries, along with all types of leavened bread, are not allowed. All types of sweeteners, including honey, molasses and stevia, are also on the banned list.
With such a strong emphasis on natural-state foods, it's no surprise that the Daniel Fast menu prohibits all types of processed or refined foods. Besides food additives and preservatives, off-limits items include artificial flavorings as well as white rice and white flour.
You'll also have to put away deep-fried foods such as potato chips, corn chips and French fries. The same guidance applies to solid fats such as margarine and shortening. Finally, the Daniel Fast menu doesn't allow carbonated beverages or energy drinks, coffee, tea (including herbal tea) or alcohol.
The Faith Temple Church of God in Christ advises that these food guidelines are boundaries, and you are free to design the fast in your own way. If you deviate from your preset guidelines, you should ask for forgiveness and remain committed to completing the 21-day fast.
Group Approach to Weight Loss
Over the years, many church congregations have banded together to follow the Daniel Fast as a group. Clinically speaking, reaching your healthy lifestyle and weight loss goals is often easier when you join a supportive group with similar objectives. Harvard Health Publishing spotlights a multi-component weight loss program at Harvard-linked Massachusetts General Hospital.
This well-rounded regimen includes a personalized eating plan, 12 group education and support meetings and two personal training sessions. Group support plays a valuable role in helping you to remain committed to your goal, even when your surroundings would otherwise jeopardize your efforts.
Plant-based Diet Health Benefits
Practicing the plant-based Daniel Fast hasn't resulted in any known negative health effects, states Loma Linda University Health. In fact, Daniel Fast participants have often dropped considerable body weight while displaying lower cholesterol and blood pressure numbers.
Many participants' inflammation-related C-reactive protein markers have also shown a reduction while insulin function showed an improvement. The Daniel Fast's emphasis on plant-based foods sets the stage for good health and a longer lifespan, while the 21-day regimen can also help to contribute to the reversal of some chronic diseases.
Similar results apply to a 40-day and a 1-year (or longer) Daniel Fast program. With that said, however, Loma Linda University Health suggests that longer-term Daniel Fast participants should add a vitamin B-12 supplement to their diets. If you're currently following a medically prescribed diet plan, consult with a registered dietitian before beginning the Daniel Fast eating plan.
Plant-based diets have also been found to provide numerous type 2 diabetes-related health benefits, according to the March 2018 edition of ​BMJ Open Diabetes Research & Care​. To reach those conclusions, researchers conducted a systematic review of 11 controlled trials from 1999 through 2017.
Collectively, the studies demonstrated that diets containing substantial amounts of vegetables, fruits, whole grains and fiber are linked to a lower type 2 diabetes risk. Researchers also found that a plant-based diet can greatly enhance existing diabetes' patients' quality of life and psychological wellbeing, and produce significant weight loss. Finally, a plant-based diet may contribute to diabetic neuropathic pain relief.
Following a Vegetarian Diet
The August 2016 edition of the ​Proceedings of the Nutrition Society​ recognized the relative lack of information about the health prospects of those who adhere to a vegetarian diet long-term.
Researchers summarized findings from studies in Western countries with a proportionally large number of vegetarians. The study specifically addressed lacto-ovo-vegetarians, who eat eggs and dairy products while staying away from meat, fish and poultry.
Collectively speaking, vegetarians are less likely to have overweight or obesity compared to otherwise-similar non-vegetarians. Vegetarians are at reduced risk of diabetes, diverticular disease and eye cataract disorders and researchers concluded that vegetarians appear to enjoy general good health.