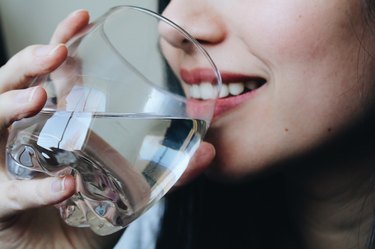 The Daniel fast plan, according to All About Prayer, is a plan based on Bible versions found in the book of Daniel. During this fast, which lasts three weeks, only certain foods are allowed. It is thought to bring Christians closer to God.
The 21-Day Daniel Fast
The Daniel fast plan is found in Daniel 10:2-3. "At that time I, Daniel, mourned for three weeks. I ate no choice food; no meat or wine touched my lips; and I used no lotions at all until the three weeks were over." The three weeks refer to Passover and the Feast of Unleavened Bread, but many people opt to do the fast any time.
It's worth noting that the Bible does not command Christians to follow the Daniel fast at all. Therefore, choosing to participate in the 21-day fasting challenge is a faith-based decision.
During the Daniel fast plan, people are not supposed to focus on the lack of food, but to pay more attention to the Bible and their spiritual study, as a period of reflection. It's also important to focus on the foods you're allowed to have during the fast, rather than the ones you're not allowed to have.
It is recommended that anyone undergoing medical treatment for any condition first speak with their doctor before starting.
For those who wish to use this 21-day fasting challenge, there are plenty of cookbooks full of recipe ideas so the food can be exciting. Nothing says you can't enjoy the food you do eat while following the program.
What Foods Are Allowed?
During the 21-day Daniel Fast, you are allowed to eat all fruits and vegetables. You're on a plant-based diet that — like the Bible verse says — does not allow for meat, wine or alcohol in general. Many practitioners also cut out refined and processed foods.
It's easier to say what you cannot have for the duration of the 21-day fasting challenge. The following items are off-limits:
Meat, fish and other animal products, including dairy and eggs
Bread, pastries, chips, cookies or anything that contains yeast or other leavening agents
Fried foods
Any beverages other than water. Coffee, tea and alcohol are not allowed. Some say fruit juice is okay as long is it is free from preservatives and added sugar, but those should be limited as well.
All kinds of fruit: fresh, frozen, canned, dried fruit and pure juice
All kinds of vegetables: fresh, frozen, canned, dried, pure juice, all colors of sweet potatoes
All whole grains: brown rice, corn flour, whole-wheat pasta, quinoa, etc.
All nuts and seeds, including nut butter
All legumes
Oils, including grapeseed, peanut, sesame, canola and olive
Soy-based foods, such as tofu and veggie burgers
Condiments, such as herbs and spices, vegetable broth, mustard and cilantro
Ultimately, this diet provides most of the basic nutrition you need as long as you are varying the fruits and vegetables you eat. But because it doesn't allow for meat and dairy products, some nutrients are lacking. That's why you should do the fast for a limited time and resume your normal diet for a while before attempting to complete the fast again.
But for those who want to continue eating within the guidelines of the fast after it's finished, there's a modified version available, known as the Daniel Plan. The Daniel Plan was created by Dr. Daniel Amen, Dr. Mark Hyman, Dr. Oz and Pastor Rick Warren as a sustainable version of the fast.
It includes faith, food, fitness, focus and friends. Throughout the program, Bible study is encouraged, so you can rely on God's power. You're supposed to eat foods that "love you back" and discover exercises you enjoy. The focus aspect is designed to help you develop healthy habits. The friendship aspect has the role to help you build and maintain healthy relationships for accountability and support.
With the spiritual foundation, you can then move to a food plan that focuses on nutrition rather than deprivation. The Daniel Plan Plate should consist of:
50 percent non-starchy vegetables
25 percent healthy animal or vegetable protein
25 percent healthy starch or whole grains
Side of low-glycemic fruit
Water or herbal iced tea to drink
Though the plan isn't strictly vegetarian or vegan, it can be made to suit that lifestyle. The idea is that you can complete the 21-day fasting challenge to jumpstart your weight loss, then continue with the Daniel Plan to maintain your healthy lifestyle.
Benefits of Fasting
Fasting, in general, has been studied over the years, and there are a few studies specific to the 21-Day Daniel Fast.
According to a September 2010 small-scale study with 43 participants published in Lipids Health and Disease, the 21-day fasting challenge was well-tolerated by both men and women. It showed improvement for several risk factors for metabolic and cardiovascular disease.
Researchers state, though, that larger scale, randomized studies for a longer time and possibly a "slight modification" in food choice to maintain HDL cholesterol levels, or the good cholesterol your body needs, are required to validate the findings.
Another small study, which was conducted on 12 men and 27 women and published in September 2012 in Nutrition & Metabolism, a 21-day Daniel fast with or without krill oil supplementation may improve LDL cholesterol, the bad cholesterol you need to keep low, as well as the LDL:HDL ratio, fasting blood sugar levels and body weight.
A third small-scale study with 29 participants, also published in Lipids in Health and Disease in July 2013, both the traditional and a modified version of the Daniel Fast may improve cardiometabolic profile in both men and women. At the end of the study, both plans significantly reduced cholesterol and inflammation.
In regards to fasting in general, a December 2017 study in Current Diabetes Reports suggests that intermittent fasting is more acceptable to patients and prevents some of the adverse effects of chronic calorie restriction. While there are many somatic and psychological benefits of fasting, behavioral modifications, such as abstaining from binge eating after a fasting period, is critical to maintaining a favorable outcome.