Gelatin is a natural protein derived from the processing of animal collagen. Contrary to popular belief, gelatin is not rendered from the feet or horns of animals, which are made of keratin, the same material as your fingernails or hair. Rather, gelatin is obtained from cattle hide and bones and pig skins. Gelatin is 90 percent protein and supplies you with 18 amino acids, including nine of the ten essential amino acids. Gelatin only lacks tryptophan.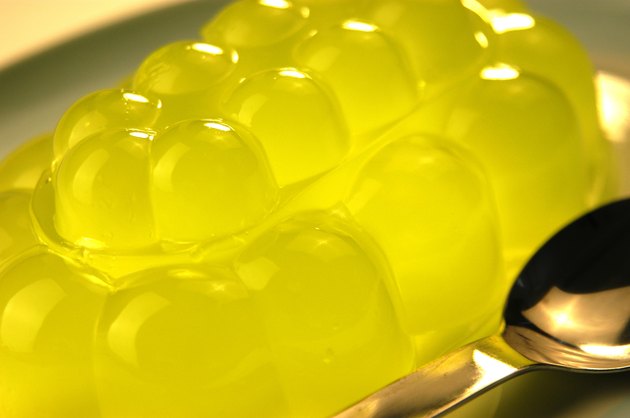 Manufacturing
The process used to extract collagen from raw materials is called hydrolization. This chemical reaction involves stages of boiling and soaking the raw materials in a strong acidic solution to liberate -- or hydrolyze -- the protein. Strict guidelines are followed to make sure the gelatin is free of contaminants. Once it is dried, the gelatin is formed into sheets or ground into a powder. Gelatin has a lengthy shelf life, provided it is kept at an even temperature and humidity.
Function
In the food industry, edible gelatin is used as a thickener, a gelling agent, a stabilizer and an emulsifier. It can be found in yogurt, pate, marshmallows, gummy candy, soups and salad dressings. Edible gelatin is also widely used in pharmaceuticals, both in the making of capsules and as a coating for tablets and caplets. Inedible gelatin is used in the production of photographic film and in the paint-containing capsules for paintball guns.
Kosher Gelatin
Kosher fare includes any food that has been prepared in accordance with Jewish law. Fish, fruit, vegetables and salt are all designated "pareve," or neutral. Edible gelatin is considered pareve because hydrolization results in a complete transformation from the original raw materials. In 1993, "Kolatin," a gelatin made from only kosher cow hides, was introduced. It is the only edible gelatin certified by the Union of Orthodox Jewish Congregations to be truly kosher.
Vegan Gelatin
Gelatin can not be part of a vegan diet, but there are other options if you choose to refrain from eating animal products. Agar is a versatile substitute derived from a type of red algae. Carrageen, or Irish moss seaweed, is best for making softer gels and puddings. Pectin, an ingredient in jams and jellies, is made from dried citrus peels or apple pulp -- all by-products of fruit juice production. Gelatin alternatives can cause gastro-intestinal irritation and discomfort.