Delicata squash is a type of winter squash that's well known for its striped exterior and bright orange interior. Delicata squash's nutrition features various vitamins and minerals, particularly vitamins A and C. This type of squash is mostly made of carbohydrates, with no fat and small amounts of protein.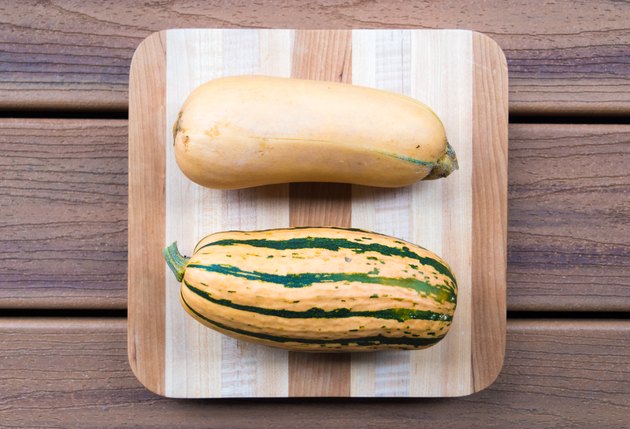 Delicata and Other Winter Squash
The winter squash delicata goes by a variety of other names. You might also know this squash as sweet potato squash, peanut squash, bohemian squash or sweet dumpling squash. The latter is just a rounder version of the standard delicata, which is more cylindrical.
Delicata squash are known for having cream or pale orange exteriors with green or dark orange stripes. They are easily differentiated from other winter squash, like butternut squash, acorn squash, spaghetti squash or Hubbard squash, which are just one color. The exterior of these types of squash is also much more delicate than other types of squash, giving delicata its name.
Many types of squash are known for being low in carbohydrates and high in fiber. This means that several different types of squash are often consumed by people on reduced carbohydrate and ketogenic diets. However, with 18.1 carbs in delicata squash per cup (205 grams), this type of squash isn't the most keto friendly.
Delicata Squash Nutrition Facts
According to the USDA, one cup (205 grams) of winter squash like delicata has 76 calories, 0.7 grams of fat, 1.8 grams of protein and 18.1 grams of carbohydrates. About a third (5.7 grams) of these carbohydrates come from fiber. (Note that the USDA lists many winter squash varieties, but not delicata specifically. Therefore, these figures are based on the average winter squash nutritional facts available.)
Each cup of squash also contains:
5 percent of the daily value (DV) for iron
11 percent of the DV for potassium
6 percent of the DV for magnesium
19 percent of the DV for copper
17 percent of the DV for manganese
59 percent of the DV for vitamin A
22 percent of the DV for vitamin C
11 percent of the DV for thiamin (vitamin B1)
6 percent of the DV for niacin (vitamin B3)
10 percent of the DV for vitamin B5
19 percent of the DV for vitamin B6
10 percent of the DV for folate (vitamin B9)
8 percent of the DV for vitamin K
2,900 micrograms of lutein and zeaxanthin
189 milligrams of omega-3 fatty acids (12 percent of the DV)
Each cup of delicata squash also has small amounts (between 1 and 4 percent) of other nutrients, like omega-6 fatty acids, other B-complex vitamins, choline, vitamin E, selenium, zinc, phosphorus and calcium. Winter squash like delicata squash are also known for being rich in antioxidants.
Comparing Types of Winter Squash
The Carbs in Delicata Squash