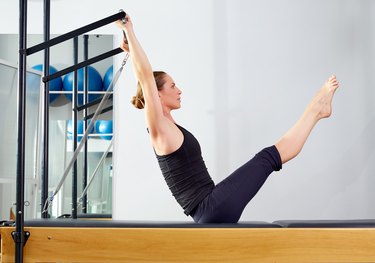 Pilates is an activity that emphasizes core strength and proper alignment. It can be performed on a mat or using equipment such as the Pilates Power Gym or AeroPilates machine, which are both suitable for at-home use.
Tip
The Pilates Power Gym and AeroPilates bring the benefits of Pilates to those who wish to exercise at home rather than in a studio. Which piece of equipment is best for you depends on your fitness level and goals.
Building Core Strength and Flexibility
Pilates is named after its creator Joseph Pilates. The exercise routine uses low impact activities to improve a practitioner's flexibility and endurance while simultaneously strengthening muscles, explains the Mayo Clinic. As Pilates emphasizes proper postural alignment, these movements work to strengthen the core and improves muscle balance and stability.
Pilates has many other benefits, including ones that go beyond improving core strength and flexibility. Pilates may also be helpful in physical rehabilitation or sports training.
Which Machine is Best?
Pilates moves can be performed either on a mat or a reformer at a studio or gym. Those looking to take their Pilates routine out of the studio and into their home may want to consider a Pilates Power Gym or AeroPilates.
The Pilates Power Gym is a compact Pilates reformer. Workouts can be customized by both the resistance and the intensity, making it versatile for all levels of fitness ability. It can also be used flat or lifted, which increases tension for a different kind of workout. With padded handles and durable foot straps, the Pilates Power Gym offers variable-resistance tension cords to create a whole body workout that is adaptable to all skill levels. It combines smooth, controlled resistance with fluid movements in an efficient, effective workout to strengthen muscles of the abs, back, shoulders, arms, thighs, hips and calves.
AeroPilates differs in that it combines traditional Pilates reformer exercises with the addition of a rebounder at one end of the AeroPilates reformer. This makes it an effective and safe way to stretch and strengthen muscles while still receiving the benefits of cardiovascular exercise. The full-body workout can be used to improve muscular strength, endurance and flexibility along with cardio activity.
Health Benefits of Pilates
According to the Cleveland Clinic, practicing Pilates may also be beneficial in preventing illnesses such as heart disease. While aerobic activity is the best type of exercise for the prevention of heart disease, the potential stress reduction results of Pilates can promote long-term heart health when combined with regular cardio exercise. Pilates performed on a machine or reformer may even help aid in weight loss.
The American College of Sports Medicine also notes that Pilates will help relax the body when paired with a regular exercise routine, explaining that physical fitness promotes mental fitness, and that when you enjoy an activity, you will make the time to exercise on a regular basis.
Was this article helpful?
Thank you for your feedback!