Fajitas are a popular Mexican dish made with marinated grilled meat, sauteed green peppers and onions and topped with salsa, guacamole, sour cream and shredded cheese, all rolled up in a flour tortilla. Fajitas can be a healthy and nutritious choice, depending on where you buy them, their ingredients and what toppings you add.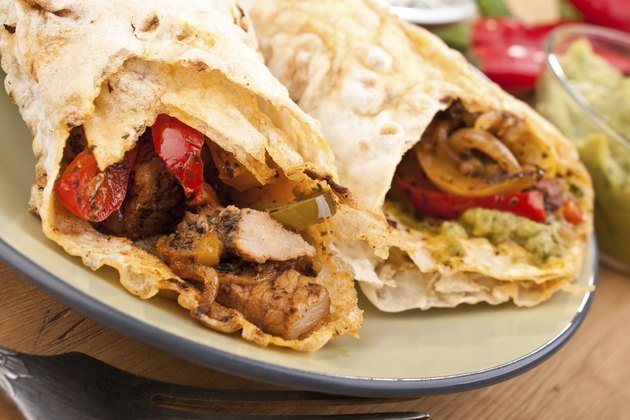 Restaurant Fajitas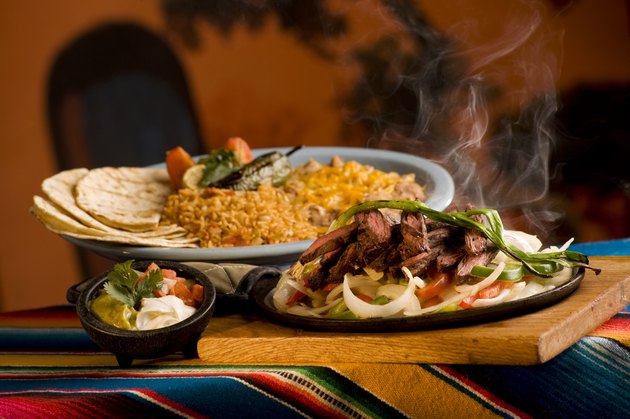 Restaurant fajitas can either be healthy or loaded with calories and unhealthy saturated fat. Applebee's Chicken Sizzling Skillet Fajitas have a whopping 1,360 calories, including 50 grams of total fat, of which 23 grams is saturated fat -- an entire day's limit on a 2,000 calorie diet -- and 6,040 mgilligrams of sodium, which is nearly three times the American Heart Association's recommended limit of 2,300 milligrams for a healthy adult. At Chipotle Mexican Grill, a fajita made with a taco-sized flour tortilla, fajita vegetables, chicken, tomato salsa and guacamole has 470 calories, with 23.5 grams of total fat and 5 grams of saturated fat.
Variations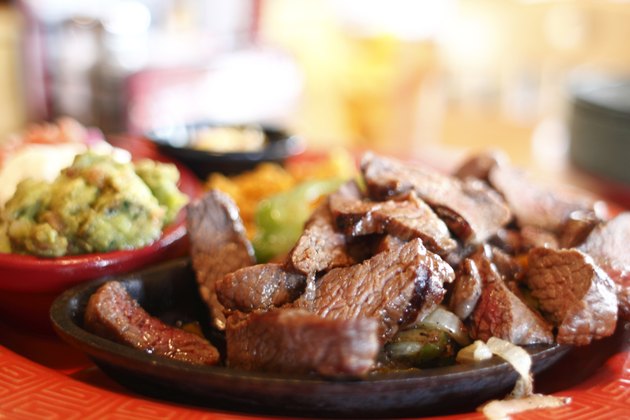 Eat fajitas without the flour tortilla wrap to cut approximately 90 calories and 2 grams of fat. Skip the saturated fat-filled sour cream and shredded cheese. Guacamole is high in calories, but avocado is a good source of healthy monounsaturated fat that can reduce your risk of heart disease. Use plenty of flavorful, low-calorie salsa, which is typically made with raw chopped tomatoes, onions and chili peppers. A half-cup of salsa counts as one serving of vegetables.
Accompaniments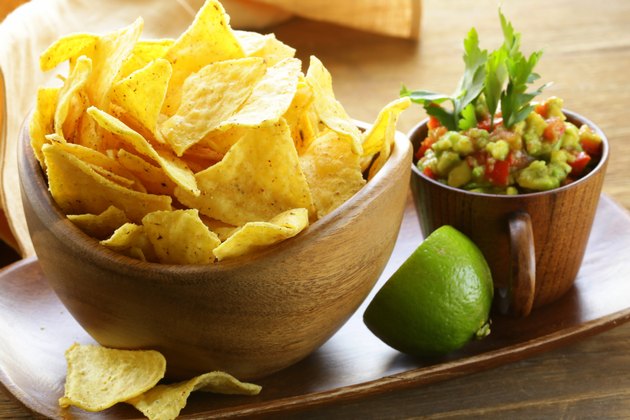 When dining out at a Mexican restaurant, choose wisely to keep your meal healthy. Ask your server not to bring tortilla chips to your table. Skip fattening sour cream and cheese, in favor of salsa and pico de gallo. Avoid refried beans, which are often made with lard, and eat whole pinto or black beans instead. While guacamole, made from a fresh avocado, contains healthy omega-3 fatty acids, remember that it is still high in fat and calories, with 1/2 cup of mashed avocado containing just over 180 calories and 16 grams of fat.
Make Your Own Fajitas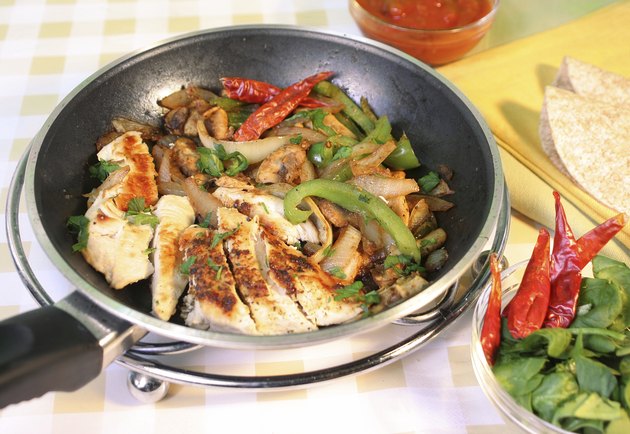 Make your own chicken fajitas to control what goes in them. In a large bowl, combine 1/4 cup of lime juice, 1 or 2 minced garlic cloves, 1 teaspoon of chili powder and 1/2 teaspoon of ground cumin. Stir in 3 pounds of chicken breasts cut into 1/4-inch strips, and let them marinate for 15 minutes prior to cooking in a pan on the stove or grill for about 3 minutes, or until no longer pink. Stir in 1 large sliced onion and one slivered green bell pepper and cook 3 to 5 minutes. Divide mixture evenly among a dozen 8-inch whole wheat tortillas. Top each fajita with 2 teaspoons each of salsa, low-fat sour cream and low-fat cheese. Roll up the fajitas and serve. Each fajita has 334 calories, 9 grams of total fat and 2 grams of saturated fat.