Carne picada is thinly sliced or shredded beef. It is typically chuck beef, but meat labeled as carne picada may also contain other lower-grade cuts of beef.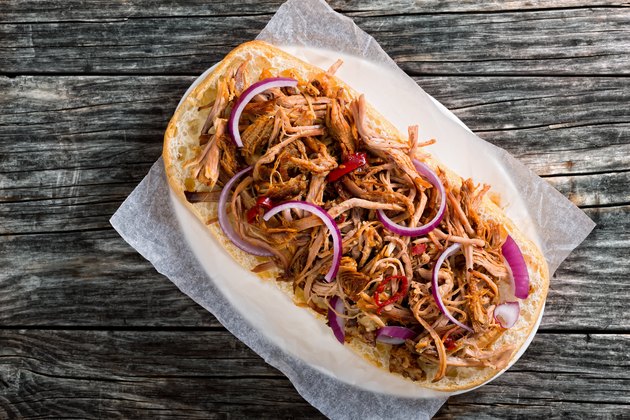 You may be more familiar with carne asada than carna picada. Carne asada is usually grilled as a steak, or sliced for use in fajitas. Picada on the other hand is sliced or shredded, and usually cooked in a sauce as well. Carne picada is a good source of protein. According to the USDA, a 3-ounce serving provides 14 grams of this important nutrient.
Because it's thinly sliced, it cooks quickly, which makes it appropriate for sandwiches or burritos when you are short on time. Carne picada is commonly sold in Hispanic grocery stores, although it is also found in some large supermarkets in the United States.
Things You'll Need
Skillet

Olive oil

Bell peppers

Onions

Carne picada

Aluminum foil

Large pot
Tip
Add cumin, diced garlic and cayenne pepper to carne picada to give it a spicy flavor.
Pan-Frying Carne Picada
Step 1: Turn Up the Heat
Place a large skillet on a stove-top burner and turn the heat to medium. Add one tablespoon of olive oil and let it heat for one to two minutes.
Step 2: Time to Saute
Add sliced bell peppers and onions to the oil. Saute for two to three minutes, or until the onions begin to brown.
Step 3: Add Your Meat
Add carne picada. Fry for five to six minutes, stirring occasionally to promote even heating. Remove from the heat when the meat is cooked through and begins to brown on the edges.
Grill Up Some Carne Picada
Step 1: Prep Your Grill
Place a sheet of aluminum foil on the cooking grate of a heated propane or charcoal grill. Brush olive oil on the aluminum foil.
Step 2: Add Your Ingredients
Place the carne picada, sliced onions and bell peppers on the aluminum foil. Spread the meat in a thin layer on the foil to allow it to cook quickly and evenly.
Step 3: Grill, Baby, Grill
Grill for four to five minutes or until the meat begins to brown. Move the carne picada around on the foil occasionally during cooking to prevent burning.
Boiling Carne Picada
Step 1: Prep Your Pot
Fill a large pot about a third of the way full with water. Place the pot on a stove-top burner and turn the heat to medium-high. Bring the water to a boil.
Step 2: Add Your Meat
Add carne picada to your boiling water a handful at a time. Allow the water to return to a boil.
Step 3: Simmer to a Finish
Turn the heat to low and cover the pot. Allow the carne picada to simmer for five to seven minutes or until cooked through.
Tip
Test the internal temperature of the carne picada with a meat thermometer. The beef should have an internal temperature of 160 degrees Fahrenheit to be consumed safely, according to the USDA.
Save leftovers for a second tasty meal. Refrigerate your carne picada at 40 degrees F or cooler and consume within three to four days, as advised by the USDA. Heat leftovers to 165 F to reduce risk of harmful bacterial content.