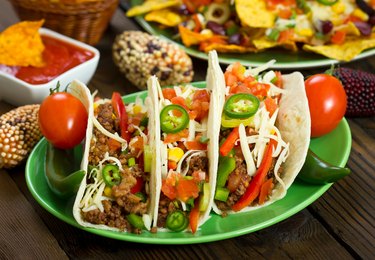 Carne picada makes for a protein-packed filling for tacos, fajitas, burritos and bowls. The Mexican-style beef is ground, cubed, minced or very thinly sliced and slow-cooked in a spicy sauce or gravy.
Carne picada is typically made of chuck beef, but meat labeled as carne picada may also contain other cuts of beef.
Making carne picada at home is easy. All you need are a handful of ingredients and some time to let the beef marinate and cook. Here's how to do it plus some carne picada recipes to try.
Carne Picada vs. Carne Asada: What's the Difference?
You may be more familiar with carne asada than carne picada. The two beef dishes have a lot in common, but they're not exactly the same.
Carne asada is usually grilled as a steak, or sliced for use in fajitas. Carne picada, on the other hand, is sliced or cubed more finely and braised in a sauce. Both are good (and delicious) sources of protein. A 3-ounce serving of carne picada provides 14 grams of this important nutrient, according to the USDA.
Because the beef used for carne picada is thinly sliced or minced, it can cook quickly, making it appropriate for sandwiches or burritos when you're short on time. But it also lends itself well to slow cooking.
You can find carne picada beef in Hispanic grocery stores and in some large conventional supermarkets. If you can't find beef labeled carne picada, look for bottom round roast or chuck roast diced into small cubes.
Beef Carne Picada Ingredients
There are as many recipes for carne picada as there are cooks who make it. But in general, it relies on a combination of beef, aromatic spices, canned tomato, chopped vegetables, plus flour for thickening.
Here's what you'll need to make enough carne picada to serve 8 to 10 people.
​2 lbs beef.​ Look for beef labeled carne picada, or bottom round roast or chuck roast diced into small cubes. A pound a beef will serve four to six people.
​2 tbsp oil.​ Olive or canola oil is needed to sear the beef.
​Spice blend: 1 tbsp chile powder + 1 tbsp ground cumin + 1 tbsp brown sugar + 1 1/2 tsp oregano + 1 1/2 tsp salt .​ Carne picada typically calls for a blend of several spices. dried cumin, chili powder, salt, and pepper. Some recipes also add spices like paprika, dried oregano, or dried coriander, along with a pinch of sugar for sweetness.
​3 tbsp all-purpose flour.​ A few tablespoons of all-purpose flour are usually added to the spice mixture to help create a crust on the beef as it sears and thickens the sauce.
​Chopped vegetables: 1 medium yellow onion + 1 jalapeño pepper + 3 cloves garlic, diced.​ Some carne picada recipes, add extra flavor with chopped onion, jalapeno or bell peppers, and garlic.
​1 28-ounce can whole plum tomatoes and their juices, coarsely chopped.​ Canned tomatoes and their juices form the base of the spicy sauce. Some recipes call for whole plum or crushed tomatoes, while others call for diced or fire-roasted diced tomatoes.
Stovetop Carne Picada Recipe
Pan-frying carne picada on the stovetop is quick, making it a good option for fast, easy dinners.
Place a large skillet on a stove-top burner and turn the heat to medium. Add the oil and let it heat for one to two minutes.
While the skillet warms up, toss the carne picada in the flour-spice mixture, making sure the pieces are coated evenly. Add the coated carne picada to the skillet and sear until browned evenly, 5 to 6 minutes.
Step 3: Add the Vegetables and Simmer to a Finish
Add chopped vegetables to the seared beef. Saute for 2 to 3 minutes, or until the vegetables begin to soften. Add the tomatoes and simmer for 5 to 10 minutes until the flavors are melded.
Step 4: Serve the Carne Picada
Taste the carne picada for seasoning and make adjustments as necessary. Serve immediately.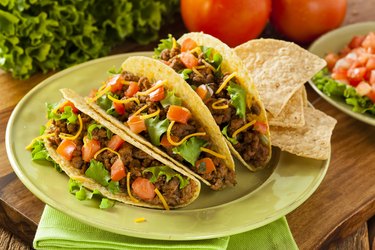 Slow Cooker Carne Picada Recipe
Rather have dinner ready and waiting when you get home? You can prep carne picada in the slow cooker and let it simmer away to develop a rich, complex flavor.
Heat the oil in a large skillet over medium-high heat. Toss the beef cubes with the flour and spices and add to the skillet. Sear the beef cubes for 5 to 6 minutes, until the outside is browned and crisp.
Step 2: Add the Beef to the Slow Cooker
Transfer the seared beef, tomatoes, and chopped vegetables to the slow cooker. Set the slow cooker to cook on high for 4 hours or on low for 6 to 8 hours.
Step 3: Serve the Carne Picada
Taste the carne picada for seasoning and make adjustments as necessary. Serve immediately.
Tip
Test the internal temperature of the carne picada with a meat thermometer. The beef should have an internal temperature of 160 degrees Fahrenheit to be consumed safely, according to the USDA.
Save leftovers for a second tasty meal. Refrigerate your carne picada at 40 degrees F or cooler and eat within three to four days, as advised by the USDA. Heat leftovers to 165 F to reduce the risk of harmful bacterial content.
Was this article helpful?
Thank you for your feedback!