It seems logical that your body may absorb vitamins better in liquid rather than in pill form. Liquid vitamins are easy to take, even though they may leave a medicinal aftertaste in the mouth. Some people describe vitamins in pill form as "horse pills" because they are big and difficult to swallow, but this isn't the only reason why you may want to take a liquid vitamin instead of a vitamin supplement in the form of a pill.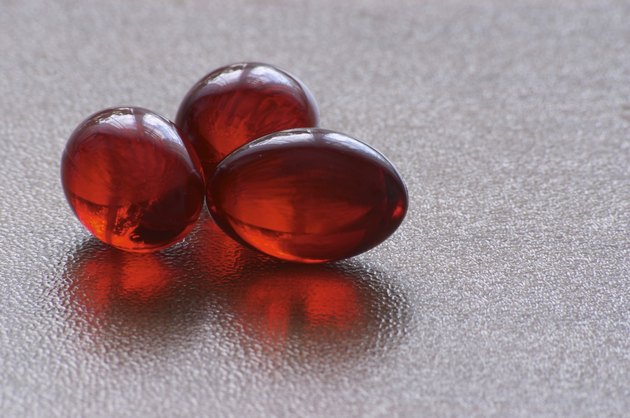 Features
Your body absorbs liquid vitamins better than its pill counterparts do. In fact, the body absorbs approximately 98 percent of the vitamins and minerals contained in liquid form. However, the body only absorbs anywhere from 3 to 20 percent of the vitamins in a vitamin pill. Moreover, liquid vitamins bypass digestive processing and go directly into the bloodstream within minutes.
Significance
Nutrients keep the body strong and healthy, but antioxidants play a role in the prevention of age-related diseases. Choosing a liquid vitamin over vitamin pills may help your body absorb nutrients -- especially important antioxidants -- better. The body needs a constant supply of vitamin A, C and E, which are antioxidants that prevent the oxidation of cells. Cells oxidize when age, disease or illness strikes the body. You can prevent premature aging and some diseases by taking a daily multivitamin supplement.
Example
When the body does not get the vital nutrients it needs, it turns to stored reserves in body's organs. As an example, a lack of calcium intake will cause your body to get its calcium needs from the bones, where your body stores most of its calcium reserves. Some calcium remains in your blood and soft tissues, but when your body uses up those reserves, it must get calcium from your foods or vitamin supplements. Otherwise, your body turns to emergency reserves--calcium in the bones. Over time, if your body doesn't replace those calcium reserves in the bones, it may lead to weak bones or a disease called osteoporosis. In the United States, more than 40 million people either have osteoporosis or are at high risk for the bone disease, according to the National Institutes of Health. A daily vitamin supplement may be able to prevent osteoporosis, among other preventable conditions.
Warnings
You may run a risk of absorbing too many vitamins. This can cause a toxin overload in the body. On the other hand, medical conditions could prevent the absorption of certain vitamins. Dr. Alan Green, clinical professor of pediatrics at Stanford University School of Medicine, says that anemia, hyperthyroidism, digestive disorders or tapeworms in the body could prevent vitamin B12 absorption. Always talk to your doctor before making the switch from pill vitamin to liquid vitamins, especially if you are under the care of a doctor for a medical condition.