Constipation and headache are very common ailments. If you experience them simultaneously, it's reasonable to wonder if the two are related. Because headaches and constipation are so common, it's entirely possible to have both at the same time coincidentally. If you notice a pattern of these ailments occurring together, however, there might be a link. Constipation can be related to a headache, although it probably doesn't actually cause the headache. It's more likely that a common factor -- such as another health condition -- is causing both your constipation and headache.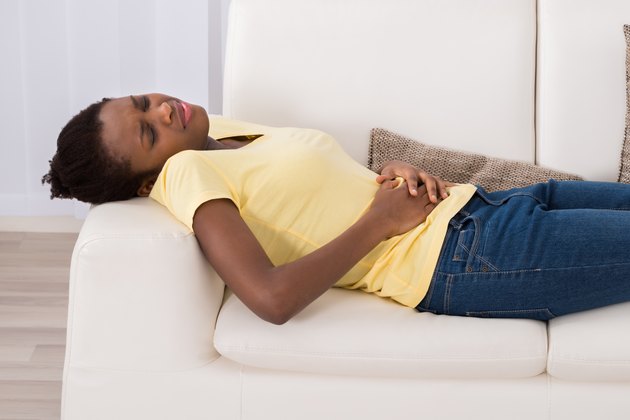 Typical Symptoms
Normal bowel movement frequency varies among people, ranging from 3 per day to 3 per week for the average person. Constipation is usually defined as fewer than 3 bowel movements per week, or infrequent stools that hard, dry, small or difficult to pass.
Headache symptoms vary, depending on the type. Tension-type headaches are the most common by far, with symptoms such as pressure or tightness that feels like a band around the head. Neck pain might also be present. Migraines are the next most common type of headache. Symptoms vary but may include one-sided, pulsating head pain, nausea, lightheadedness and visual disturbances.
Linking Conditions
Headaches and constipation can be ailments in and of themselves, or they can be symptoms of another underlying health condition. Premenstrual syndrome is a common culprit. People with fibromyalgia, a painful muscular disorder, also frequently have headaches and constipation, or constipation alternating with diarrhea. Additionally, many people with fibromyalgia have irritable bowel syndrome (IBS), which could explain the simultaneous occurrence of headaches and constipation. Chronic fatigue syndrome is another example of a possible underlying cause of these symptoms.
Although diarrhea is more common, constipation and headache can also occur with celiac disease, a condition in which gluten from food triggers an immune reaction that damages the intestine. Interestingly, there is some evidence that people with chronic gastrointestinal disorders such as celiac disease and IBS have an increased risk for migraines, as reported in the November 2014 issue of "Frontiers in Neurology."
Medications and Other Causes
It's not unusual for constipation and headaches to be listed as possible medication side effects. Opiate pain medicines are a common culprit, especially if the medication is overused. Triptans, such as sumatriptan (Imitrex), used for migraine headaches can cause both constipation and rebound headaches in some people. A few examples of other medicines that might cause headaches and constipation include: -- statin medications to lower cholesterol, such as atorvastatin (Lipitor) and simvastatin (Zocor) -- diuretics for high blood pressure, such as chlorothiazide (Diuril) and amiloride (Midamor)
Imbalances in the body can also cause headaches and constipation. A common example is dehydration, which is particularly common in seniors. A low magnesium level is another possible cause, although this deficiency is rare in the U.S.
Considerations
It may be challenging to determine the cause of frequent constipation and headaches without a visit to your doctor. You can make the most of your visit by preparing some important information ahead of time, including all medications, herbs and supplement you take along with any other symptoms you are experiencing. In the short term, you may be able to treat your headaches and constipation with over-the-counter pain relievers and laxatives or stool softeners. However, it's best to check with your doctor about your home treatment to be sure it's safe for you.
Reviewed by: Tina M. St. John, M.D.