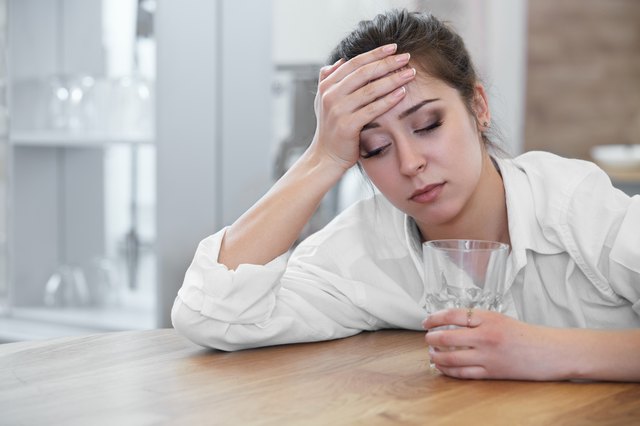 Many different things can trigger a headache when you're dieting. In most cases, however, it only happens when you're not following a healthy diet. If you're trying to lose weight by cutting down on calories moderately, you shouldn't be experiencing headaches. Pain can also happen if you're feeling stressed or under pressure to lose weight fast. Try to relax and work on your weight loss slowly for better results that are also pain-free.
Lack of Carbs
Low-carb diets are notorious for lowering your blood sugar levels and causing headaches, according to Lindora Weight Loss Clinics. If you're also exercising, the headaches can be much worse, as physical activity will use the few carbs you're ingesting as fuel. According to the National Headache Foundation, you can avoid this type of headaches by avoiding jarring exercises or slowing down your workout.
Dehydration
In many diets, you might have to cut all drinks except water. If you usually drink a lot of other liquids because you don't like the taste of water, you might end up drinking less when dieting. This could make you dehydrated, especially if you keep it up for more than a couple of days. Make sure you're drinking at least eight glasses of liquid a day. Water is ideal, but you can also try seltzer water or calorie-free sport drinks or flavored water.
Fluid Shift
Fluid shifts happen when you're on the other side of the spectrum and you're drinking lots of fluids. This might affect your sodium and potassium levels and can cause headaches. To prevent this type of headaches, make sure you increase your salt and potassium intake along with your water intake. Good sources of potassium include meats, potatoes with skin, dairy products, nuts and tomatoes.
Hunger
When you're on a strict or crash diet, you're likely to skip meals or go for hours without touching food. This causes your blood sugar to plummet and can lead to headaches as a result. Eating regular meals that contain both carbs and protein is the best solution. If you're dieting, choose a program that allows you to eat several meals a day.