If you like to get your workout on the dance floor, then one of the following dance fitness DVDs might get you motivated to sweat, groove and drop a few pounds while increasing your cardiovascular fitness. All of these workouts are strong sellers according to Amazon.com, and each has its own strengths and weaknesses.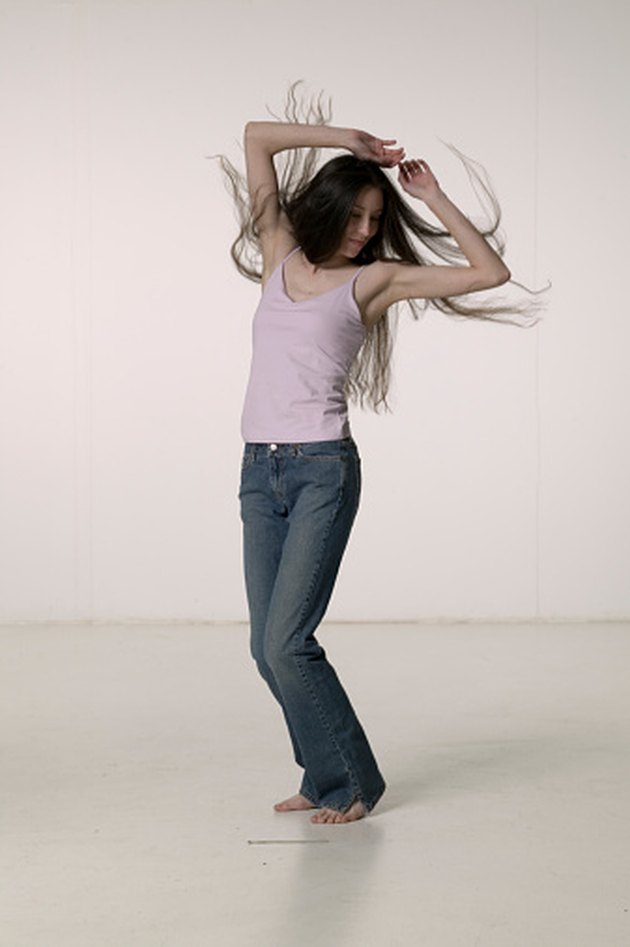 Zumba
Zumba is a Latin-dance inspired workout program. Zumba Fitness offers a "Total Body Transformation" DVD set, which includes four DVDs and six workouts, along with Zumba toning sticks -- which are basically light hand weights. The package includes an intro DVD that breaks down moves, plus a live class, cardio party, 20-minute express workout, and a sculpt and tone DVD.
There is also a 2004 Zumba DVD set, which is still a top seller on Amazon. The older release is a four-disc set including beginner, intermediate, advanced and abs/butt/thighs. There are no toning sticks in this DVD. This set is better suited to beginners than to serious Zumbaholics.
Although Zumba classes may draw an estimated 6 million people a week to the gym, the DVDs can't quite capture the energy of a live class.
Latin
Jennifer Galardi has starred in six dance workout videos, including "Dance Off the Inches: Hip Hop Party" and the "10-Minute Solution: Fat Blasting Dance Mix." These two videos offer fun dance moves you could actually take out on the town. Galardi's cueing and instruction are fun and simple to follow, but the biggest challenge in her DVDs is mental: In other words, unless you are an exceptional dancer, it will take you several tries with these DVDs before you master all the routines.
Beginner-Friendly
If you are a beginner to fitness or dance, "Prevention Fitness Systems: Dance Yourself Thin" with Marie Forleo, "Dance Fitness for Beginners with MaDonna Grimes: African Beat, Latin Heat" and "The Complete Collection of Sweatin' to the Oldies" all offer entry-level workouts that will get you moving. If you are an experienced dancer looking for a challenge, these DVDs will bore you silly, but if you are just starting out and want to enjoy yourself while you work out, you're in the right place.
Specialty
For the experienced dancer, or the dancer who doesn't mind a challenge, check out "Element: Ballet Conditioning" and the "Dirty Dancing Official Dance Workout." Elise Gulan, an experienced ballet, tap and jazz dancer, leads the ballet video. This workout is not an intense cardio blast -- the focus is more on strengthening and toning.
The "Dirty Dancing Official Workout" is more dance-oriented and less fitness-centered than many of the other videos on this list. The DVD teaches you short, choreographed segments that you can use with songs from the movie. If you are interested in dance moves from the '60s, or if you have ever struggled to figure out Patrick Swayze's jazz walk in the finale of the movie, this is the DVD for you.
Challenging
According to the Sports Unlimited website, "Shaun T's Hip Hop Abs" is the best advanced dance workout DVD. This set comes with three workouts, Fat Burning Cardio, Ab Sculpt 2, and Total Body Burn 2. These videos are tough -- it's a serious workout and probably not the best choice for a total beginner or someone who isn't enthusiastic about exercise.