When you are creating a detox formulation, consider using baking soda, lemon juice or both to boost your detox efforts in a cleansing drink. Both ingredients are inexpensive and may, in fact, already be in your kitchen. If not, they're easily found at your local grocer. Since baking soda, the common name for sodium bicarbonate, is officially considered a medicine you need to consult a health care professional before using it – especially if you take medicine or have a health condition.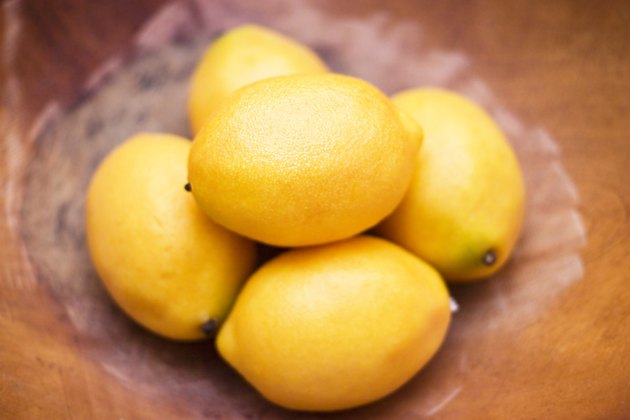 The pH Effect
Baking soda helps to alkalinize your body and thus minimizes the "detox ache," advises Rebecca Wood, author of "The Detox and Cleanse Solution," and "The New Whole Foods Encyclopedia." The juice from lemons also helps make your body more alkaline. A good body pH is 7.35, with the scale ranging from one at the most acidic to 14 at the most alkaline. When your body pH drops, this raises your chances for ailments, fatigue and impaired sleep, says Brendan Brazier, author of "Thrive: The Vegan Nutrition Guide."
Body Boost
Lemon juice acts as a mild diuretic, which assists your body in flushing water and toxins. It also boosts fat-flushing processes in your body, your digestive system and nutrient absorption. This juice also revs up your liver and gall bladder function, notes Ann Louise Gittleman, author of "The Fat Flush Foods." That's significant because your liver serves as your body's filter for toxins.
Detox Power
Lemons help you detox in several other ways. They are rich in vitamin C. This water-soluble antioxidant helps your body neutralize cell-damaging free radicals and also helps prevent cholesterol build-up, Gittleman says. Limonene, a substance in lemons, helps stimulate lymph flow and detoxify your body of carcinogens.
How Much to Use
Wood advises consuming a baking soda formulation up to every two hours throughout the day. Gittleman advises using the juice of at least one lemon a day, but others recommend more. You can freeze the lemon juice for later use. If you cannot have baking soda, many detox plans combine lemon juice with other substances, such as apple cider vinegar, which also helps make your body more alkaline.