The lemon, cayenne pepper and honey diet -- a variation of the notorious master cleanse -- uses the same methodology and philosophy to purportedly detoxify your system. In the master cleanse, first published in the 1940s and revived in the 1970s, creator Stanley Burroughs directed dieters to consume a drink made with maple syrup, cayenne pepper, water and lemon juice for 10 days along with saltwater flushes and laxatives; no solid food was permitted. The lemon, cayenne pepper and honey diet simply substitutes honey for the maple syrup. The original intention of the diet was to detox the body of toxins and waste, but, it has morphed into a quick weight-loss fad with no foundation in safe, sustainable weight-loss principles.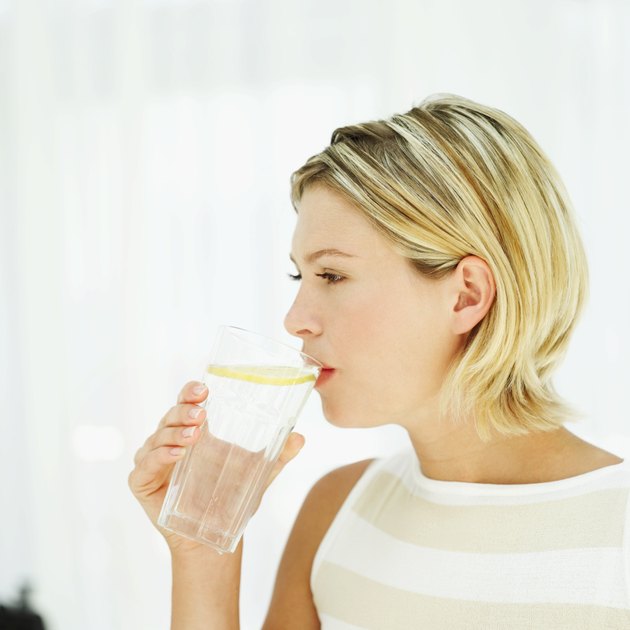 Lemon and Honey's Diet Properties
Lemon juice is not a magical weight-loss food. It can help slow digestion, though, allowing food sit in your stomach longer so you can absorb all its nutrients and experience enhanced feelings of fullness. If you're following the lemon juice, cayenne pepper and honey diet and not eating food, however, these benefits are moot. Lemon juice also boosts your intake of the antioxidant vitamin C.
Honey, however, has properties that makes it a potentially effective diet tool, especially for diabetics. In a review published in the International Journal of Biological Sciences, researchers concluded that honey can reduce blood sugar levels and may be more tolerable than many other common sugars for those with diabetes. A specific study, published in a 2009 issue of the International Journal of Food Sciences and Nutrition, reported that eight weeks of consuming natural honey can positively affect body weight and blood cholesterol levels for diabetic patients. In no way should someone with diabetes follow a lemon juice, cayenne pepper and honey cleanse, though, as it could have serious implications on their carefully monitored blood sugar levels. The potential weight-loss benefits of honey for the general population have not been researched.
Cayenne Pepper as a Diet Aid
Cayenne pepper contains capsaicin, a compound that gives it the spicy-hot bite. The University of Maryland Medical Center reports that some studies have shown that capsaicin may suppress appetite and contribute to sensations of fullness, but not all research comes to the same conclusion. In a 2011 issue of the journal Physiology and Behavior, 1 gram of cayenne added to meals did cause people to eat less and suppress cravings for fat and salt, but only in those who didn't regularly consume the spice. Cayenne pepper has some additional health benefits, including possible relief from heartburn and improved circulation, but, you don't have to subsist on it with lemon and honey alone to experience those benefits.
Diet with Few Nutrients
Although you get vitamin C from the lemon juice, other nutrients are scarce in the lemon, cayenne pepper and honey diet. Although you're drinking up to 12 glasses of the concoction daily, you receive only trace amounts of vitamins and minerals. The drink contains little to no protein or fat -- two macronutrients essential to body functioning. Protein helps you maintain lean body mass as you lose weight and contributes to the healthy growth of tissues. Fat supports absorption of vitamins, provides energy and bolsters brain health. The calories you consume in the lemon, cayenne pepper and honey diet are almost exclusively from carbohydrates.
Subbing honey for the maple syrup does little to affect the calories in the drink or the nutrient content. Maple syrup and honey contain slightly different nutrients, but in such trace amounts, they don't impact your total nutrient intake.
Lemon, Cayenne Pepper and Honey Diet Concerns
In addition to its lack of nutrition benefits, this diet may also leave you feeling weak, nauseous and tired. You will most likely lose weight because you consume only about 650 calories per day -- significantly less than the 2,000 calories the average person needs to function and maintain weight. When you lose weight quickly and drastically, much of it is in the form of healthy lean body mass and water -- not fat. Once you go off the drinks, you're likely to gain any weight you've lost back -- and possibly more fat.
If your intention is to use the lemon, cayenne pepper and honey diet as a way to cleanse your system, it's still not a sound option. Your body has a natural ability to detoxify using its internal organs and lymphatic system. Cleaning up your diet does have benefits, though. Instead of fasting and starving yourself, reduce your consumption of processed foods and refined grains and eat more fresh vegetables, fruits and lean proteins, which provide you with the nutrients you need to operate optimally while limiting your exposure to chemicals and preservatives in food.